XK X450 2.4G 6CH 3D/6G Mode Switchable Aerobatics RTF Multi-Rotor RC Airplane Glider
XK X450 RC Brushless 2.4G 6CH 3D/6G LED Fixed Wing RTF Mult-Rotor Aircraft - Glider
XK X450 VTOL 2.4G 6CH EPO 450mm Wingspan 3D/6G Mode Switchable Aerobatics RC Airplane which flies like a Plane and a Drone
This XK 2.4G 6CH Remote Control Glider is an innovative RC airplane with 3 flight modes: vertical flight / horizontal 6G airplane flight / multi-rotor flight. 3D/6G mode can be converted easily, 3D mode for aerobatic fun fly and 6G mode for stabilized flight easy for beginner. Enables you enjoy the flying fun freely.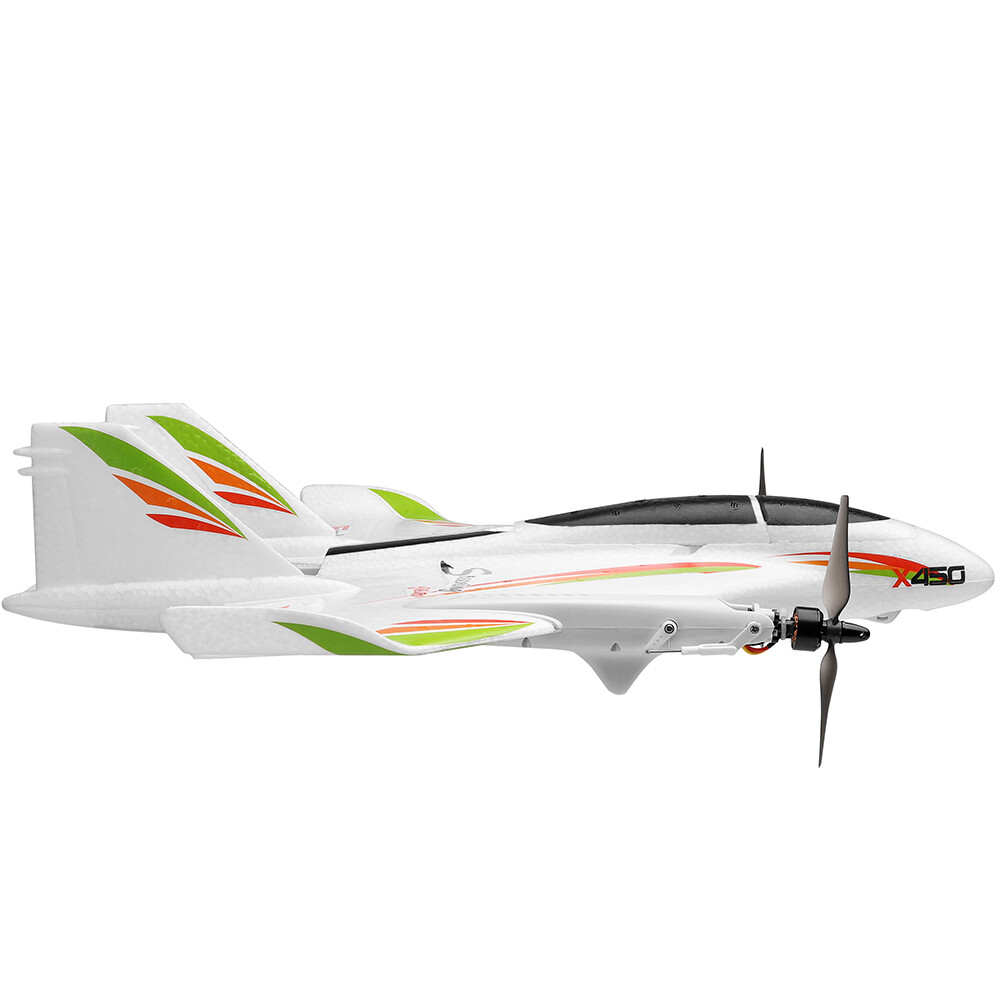 Special Features
1. Using impact resistant engineering EPO engineering materials, built-in carbon fiber rod to reinforce, very impact.
2. Three 3 x 1370 Brushless motors, high-efficiency blades, full power, high-precision large torque 9g digital steering gear 2PCS, and pull the front motor. High-precision 4.3g digital steering gear controls the rudder surface of the aircraft.
3. The aircraft adopts 6-axis gyroscope plus air pressure setting, 3D / 6G mode conversion, suitable for flying in different scenarios, and more suitable for beginners to practice training.
4. The aircraft is capable of vertical take-off and landing, vertical landing, aerial mode conversion, and has both a beginner mode and aerobatic flight mode.
5. The aircraft has multiple flight modes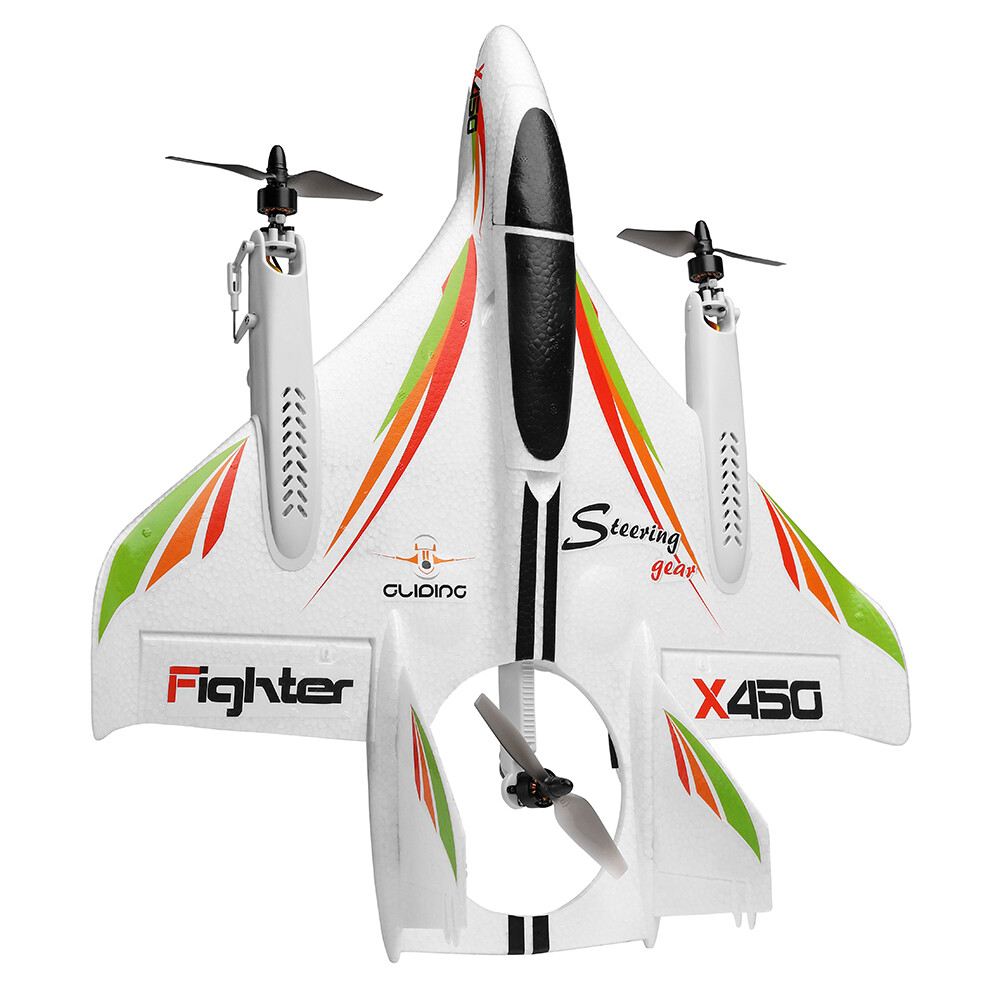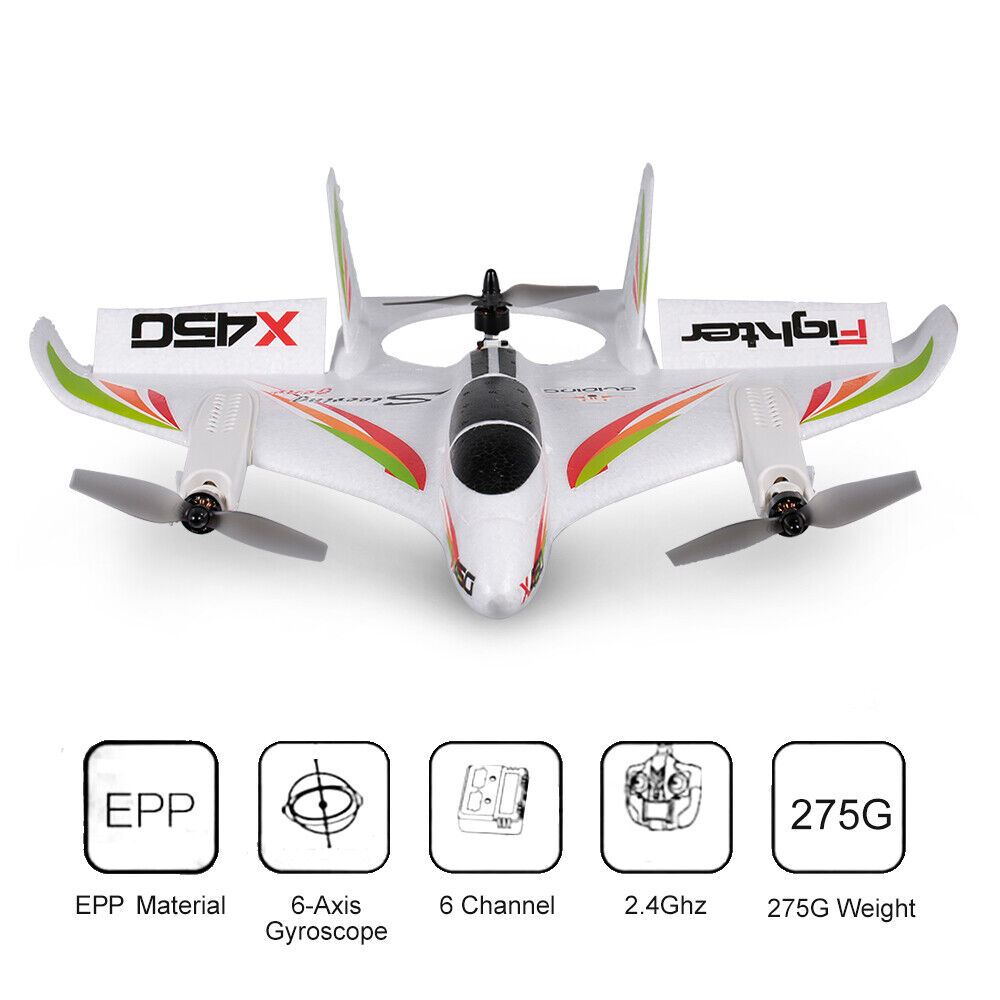 1) Multi-rotor flight (four-axis), the aircraft can fly vertically like four-axis aircraft and helicopter, hover flight and forward and backward, left and right side flight and spin flight, and has a key take-off / one-key landing function.
2) Veretical flight vertical crane mode, aircraft air conversion mode, changed from horizontal flight mode to set up flight, can fly vertically like X520 and quadcopter and helicopter, hover flight, forward and backward, left and right side flight and spin flight.
3) 6G horizontal flight mode Airplane flight, the aircraft takes off horizontally and takes off horizontally, one-key conversion of horizontal flight into 6G fixed-height self-stabilization mode, realize vertical flight to horizontal flight seamless docking, gyro self-stabilization, course lock, very suitable for beginners Practice flying in fixed-wing mode.
4) Outdoor stunt mode. After the aircraft is converted into horizontal flight in the air, the switch switches the 3D position, and the aircraft enters the 3D stunt mode (3D lock mode), making it easy to do some stunts such as somersault, roll, and death spiral.
6. High-capacity and high-rate 11.1V lithium polymer battery with a flight time of more than 13 minutes.
7. Customers can choose 720P high-definition video transmission, 2.4G WIFI, the camera can adjust the angle, can shoot vertically and 30 degrees before and after shooting.
8. The follow-up GPS version adds a one-key return to runaway return flight, low-power return flight and follow-up functions.


Features
Specifications

Weight: 209g
Frequency: 2.4G
Channel: 6CH
Motor: 1370 X 3 Brushless 
Servo: 2 X 9g,4.3g(Digital Servo)
Battery: 3S 11.1V 1000mAh 20C Li-po  (Included)
Flying Time: About 11-12mins(Vertical flight time)
                               15-16mins(Horizontal flight time)
Charging Time: About 50-60mins
Transmitter Battery: 1.5V 6 X AA(Not Included)
R/C Distance: About 300m
Size: 450mm X 445mm X 107mm
Package Information:
Package size: 48.5 x 48.5 x 13cm 
Package weight: 1538g
Gift box package
WHATS IN THE BOX?
1 X RC Airplane
1 X Transmitter
1 X Battery
1 X USB Charger
1 X Balance charge
1 X CW Prop
1 X CCW Prop
1 X Manual