WL Toys 1:18 Scale 50 km/h and 70 Km/h 4WD Super On and Off-Road Short Course RC Stadium Trucks
WL Toys 1:18 Scale 50 km/h and 70 Km/h 4WD Super On and Off-Road  Short Course RC Stadium Trucks
WL Toys 4WD Off and On-Road RC A969B Stadium Truck that can reach speeds up to 70 km/h!
Challenge your friends to on or off-road race with this amazing WLtoys A969-B 1:18th scale 4WD RC Stadium Truck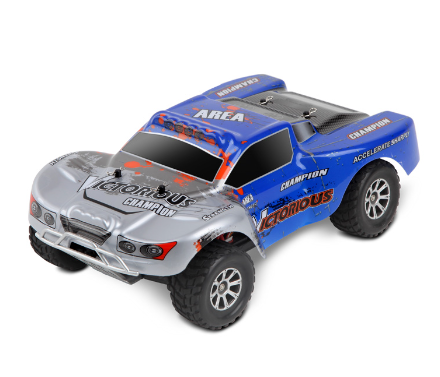 With upgraded 590 larger and more powerful motor, this RC Buggy can reach speeds of up to 70km/h. Due to the fast speed capability, it is recommended for ages 14+ or only with adult supervision.
Features: 
High speed 70km/h with nimble turning;
New 2.4G technology against interference
The four wheels independent suspension
Four Rounds Shock Absorber System
Speeds of up to 70 KM/h
2.4Ghz transmitter enables interference free operation
Suitable for use inside and out
1:18 Scale
Powerful High speed motor


Specifications:
Battery: 7.4V 1500MAH Li Battery
Receiver: 2.4GHz
Drive motor: 540 Brush motor
R/C Charger: 1.5V AAA X4 (Not include)
Drive Duration: about 6 minutes
Speed: 60-70km/h
Scale: 1:18
Charge time:approx 120 minutes
Frequency: 2.4Ghz
Control distance: 100 meters
Product Material: PA
Vehicle Size: 290mm x 175mm x 105mm
Package Size:310 x 220 x 235mm
Net Weight: 1.5Kg

Color: Blue/Silver
Package includes:
1 x WLtoys A969-B RC Car
1 x Remote Control
1 x Charger
1 x Battery
1 x Charger
Note: Battery Required (For Transmitter): 4pcs, 1.5V Battery (Not Included)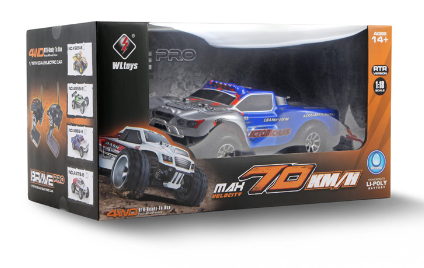 WL Toys A969 Vortex 50 Km/h Short Course Stadium Truck
Specifications:
Proportional:1:18
Suitable age:Age 14+
Vehicle Size:290 x 175 x 105mm
Package Size:310 x 220 x 235mm
Vehicle Weight:580g
Battery for Car: 7.4V 1100mAh
Playing Time:10 minutes
Charging Time:About 150 minutes
Control Distance:More than 100 metres
Speed: 45 - 50km/h
Color: Silver/Black
Net Weight: 1.5Kg
Package Includes:
1 x Wltoys A969 RC Car
1 x Transmitter
1 x Charger
1 x Battery
1 x Manual
Note: These cars are not water proof and should not be driven in wet conditions despite the box indicates as water proof.
Please see warranty conditions as these cars are capable of reaching high speeds relative to it's size and can inflict significant damage to electronics and other suspension or mechanical components if collides with concrete curbs or other hard objects.