VRX X-Ranger 4WD Brushed RTR Drift & Touring Car - White
VRX X-Ranger 4WD Brushed RTR Drift & Touring Car with 7.2V 1800mAH NI-MH battery, Wall Charger, 2.4GHz Radio, with light system & Aluminium shocks - R012330-W
VRX Racing'X-ranger' DRIFT 4WD On-Road Touring Car RC. "Ready-To-Run" (RTR), which includes the Radio, Car Battery and Charger.
Please note, this is not a typical touring car, it is a drift car and is made to do slides and drifts. This is a special version of the X-Ranger that also comes with a full LED light kit factory installed on the body.
This is a powerful electric Ready to Run DRIFT Touring Car with 4WD Shaft Drive and Slipper System, Aluminum motor mount, Unique Gearbox Design for Low CG, Metal diff. Gear design, Adjustable ground clearance, Big bored oil-filled shocks, Unique Steering System with Front Universal Joint Shafts, and Front/rear sway bars.
Features
With LED Head and Tail Lights:  RH1025DL only.
Full LED Light Kit w/ working headlights and taillights. Requires only 8-AA batteries for the remote to get started.  You can turn the lights on or off to illuminate the vehicle at night for a realistic driving experience.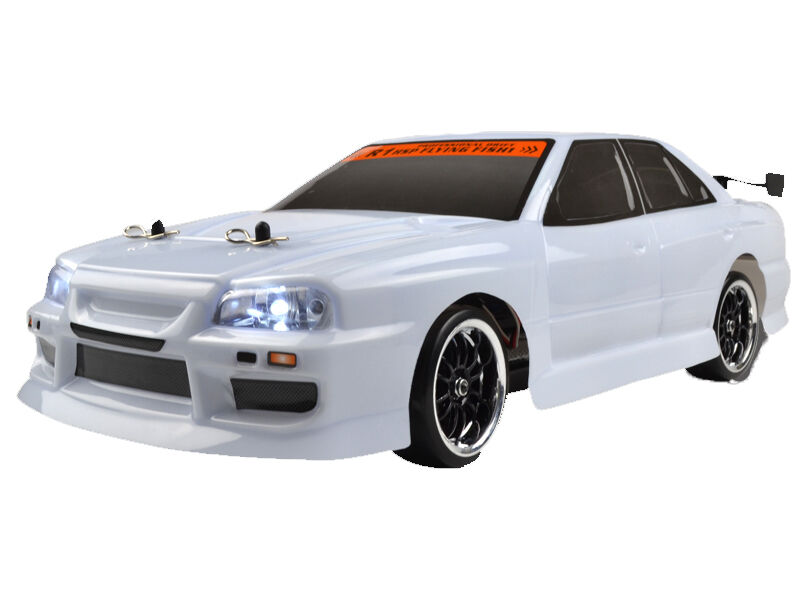 Ready to Run with 4WD Shaft  Drive and Slipper System.

On car 7.2v 1800mAH Ni-MH Battery (included).
4WD Drivetrain
Street Suspension and Drift Tyres. PLEASE NOTE: This car is designed for drifting. It comes with special tyres and suspension that help it do controlled slides. This is not your typical on-road street touring car). 
Aluminium motor mount
Unique Gearbox Design for Low CG
Metal Diff. gear design
Adjustable ground clearance
Big bored oil-filled shocks
Unique Steering System with Front Universal Joint Shafts
Metal Diff Gear 
Aluminium Shockabsorbers

Specifications
Length:364MM 
Width:190MM 
Height:130MM 
Wheelbase: 285/261MM 
Gear Ratio:6.5:1
Tyre:Φ65*26MM
Motor: 540 Size
ESC: 40A
Battery: 7.2V 1800mAH NiMH(included)
Charger: Wall Type(Included)