Traxxas 1/10 TRX-4 Ford Bronco Ranger XLT Electric Off Road Rock Crawler - 82046
Traxxas 1/10 TRX-4 Ford Bronco Ranger XLT Electric Off Road Rock Crawler - 82046
Originally introduced in 1966 as a 4 x 4 compact SUV, the Ford Bronco matured as a full-size Truck in the late 1970s, cementing its status as a rugged off-roader. Traxxas honors the classic 1979 Ford Bronco with this beautifully detailed and faithful reproduction mounted on the incredibly capable TRX-4 chassis. From the chrome wheels and bumpers to the gorgeous Sunset or red graphics, the TRX-4 recaptures the Bronco's iconic era with the toughness and technology that could only come from Traxxas.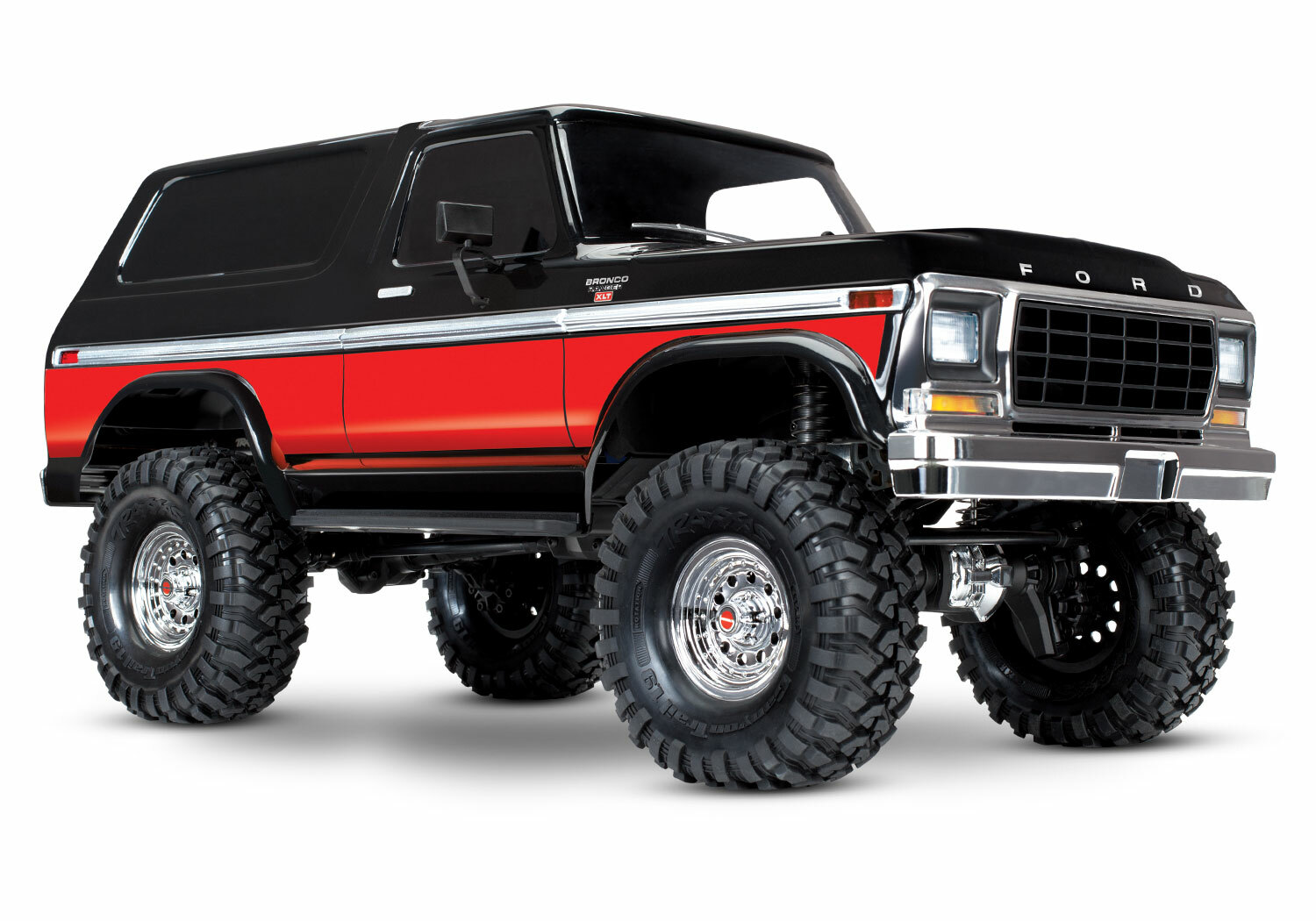 Since the release of the Traxxas TRX-4 Land Rover Defender we've all been eagerly awaiting to see what body would come next, Traxxas haven't disappointed! First the Tactic Unit and now Traxxas are Introducing the TRX-4 Ford Bronco Ranger XLT. They have been working hard on this new tough 70s Ford Bronco body and combined with Traxxas's proven TRX-4 1/10 RC crawler Chassis this thing is a total adventure beast. The TRX-4 RC Truck is packed full of features right out of the box! With remote differential locks, remote high and low gearing at a flick of a switch, portal axle, Inner fenders, waterproof electronics, metal geared high torque steering servo, aluminium shocks and the list goes on!
Length: 561.6mm (22.1")
Width: 248.5mm (9.8")
Height: 252mm (9.9")
Weight: 3.129kg (6.9lbs)
Wheelbase: 313mm (12.2")
Drivetrain: 4WD
The Traxxas TRX-4 Ford Bronco is the ultimate adventure car.

Features
Fully waterproof electronics 

allow you to drive the TRX-4 in the worst conditions
TQi 2.4GHz transmitter
Aluminium GTS shocks
Innovative portal axles provide huge ground clearance and virtually eliminate chassis torque twist
Innovative T-Lock™ remote locking differentials operate the high/low range transmission remotely from the radio
Highly detailed Ford Bronco body with chrome bumpers and wheels, side mirrors, wipers, grill, and more
Metal geared steering servo

 Pre-installed Inner Fenders
Traxxas high-torque Titan® 550 21T motor
Traxxas XL5 HV 3S ESC - XL-5 HV ESC and powerful 21T Titan 550 motor accept 6 or 7-cell NiMH or 2 or 3-cell LiPo batteries (Batteries and charger sold separately)
Remote Locking Differentials
The TRX-4 has differentials that you can lock from your remote controller. No need to break from the action to push on a lever or install locking parts just flick a switch on the fly and keep having fun.

Portal Axles
The first rock crawler to have the luxury of having the extra ground clearance axle portals provide. Go where others can't with the Traxxas TRX-4!
High/Low Transmission
Why carry your crawler down to the trail when you can drive? The Traxxas TRX-4 features a high-speed gear to get to your next crawling challenge quickly. When you get there, flick the rocker switch on your remote controller to engage low range and conquer tough terrain with exception torque.
Micro Cables
TRX-4 uses three fully-waterproof micro servos to actuate the front and rear differentials aswell as the high/low range selection on the transmission. Sleeved micro cables eliminate complicated linkages that would otherwise limit suspension articulation.
Traxxas ID Connectors
The best connectors in the industry! Secure, easy to use, high-current, also has a RFID chip that tells the charger what settings to charge it on. Now that's one smart connector.
Required items (not included)
4 AA Batteries
2 x 8.4v NiMH or 7.4v/11.1v LiPo Batteries
Compatible Charger
Full Specifications

Length: 20.57 inches (523mm)
Front Track: 9.78 inches (249mm)
Rear Track: 9.78 inches (249mm)
Ground Clearance: 3.14 inches (80mm)
Weight: 6.42lb (2.91kg)
Height: 10.47 inches (266mm)
Wheelbase: 12.28 inches (312mm)
Approach Angle: 63.82°
Departure Angle: 43.22°
Breakover Angle: 58.93°
Front Shock Length: 3.54 inches (90mm)
Rear Shock Length: 3.54 inches (90mm)
Front Wheels: 1.9 x 1.02 inches (49 x 26mm)
Rear Wheels: 1.9 x 1.02 inches (49 x 26mm)
Front Tires: 4.64 x 1.89 inches (118 x 48mm)
Rear Tires: 4.64 x 1.89 inches (118 x 48mm)
Hex Size: 12mm
Speed Control: XL-5 HV
Motor (electric): 21T Reverse Rotation
Transmission: 2-speed Hi-Lo, Remote Shifting
Gear Pitch: 32P
Differential Type: 4 Gear, Remote Locking
Chassis Structure / Material: Steel Ladder Frame with Nylon Composite Crossmembers
Brake Type: Electronic Hill Hold
Drive System: Shaft Driven 4WD
Steering: Chassis Mounted Servo
Servo: 2075X Metal Gear
Transmitter: TQi 2.4 GHz 4-Channel Transmitter
Receiver: TRA6533
Skill Level: 2
Battery Tray: 158.75 L x 47 W x 23/26mm H
Requires: Battery and Charger 
Vehicle Car
Max LiPo Power:
3S (11.1v)
Size (Scale):
1/10
Skill Level:
Intermediate
Power Source:
Electric Brushed
Chassis Type:
Rock Crawler
On/Off Road:
Off Road
Drivetrain:
4WD
Factory specs
Max LiPo power:
3S (11.1v)
Front shock oil:
30w
Rear shock oil:
30w
Wheel hex size:
12mm
Enjoy four wheel drive adventure with the new Traxxas Bronco Ranger!