Traxxas Hoss 3S 4x4 VXL Electric Brushless Off Road RC Truck
Traxxas Hoss 3S 4x4 VXL Electric Brushless Off Road RC Truck
Meet the all new Hoss from Traxxas, the tough and intelligent 1/10 scale 4x4 VXL Brushless Monster Truck!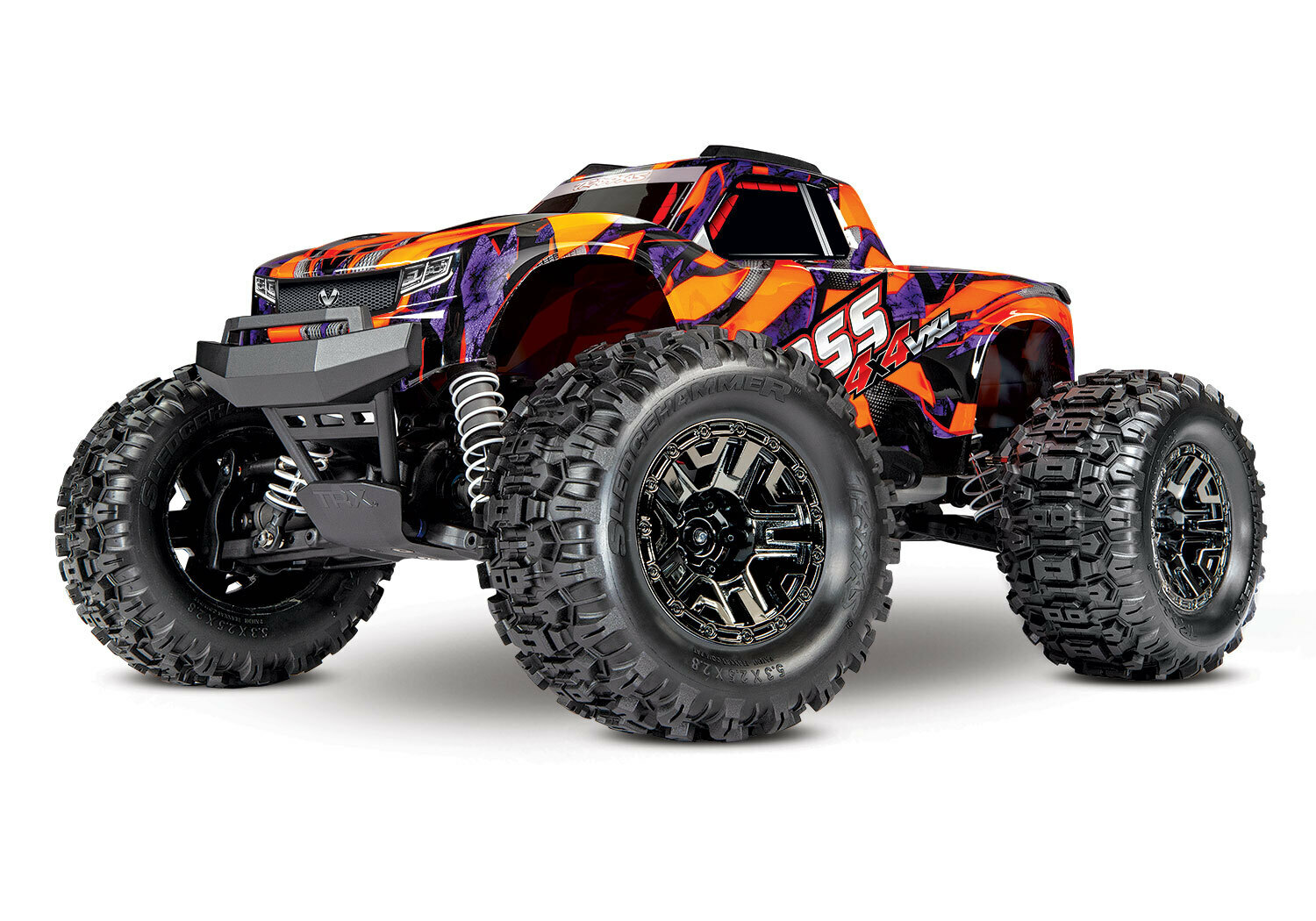 Introducing the all new Traxxas 1/10 HOSS 4x4 VXL Brushless Monster Truck!
The all-new 1:10 Scale Hoss 4X4 VXL unleashes extreme monster truck fun with the power and speed only Traxxas can deliver. Grab a fistful of throttle and the huge Velineon 540XL motor delivers a massive torque punch to wheelie on command, and then keeps pouring on the thrust for a 60+ MPH top speed. The Torque Biasing Center Drive and heavy-duty shaft-driven 4WD system transfers maximum power to the ultra-aggressive Sledgehammer™ tires. It's built to absolutely shred any terrain, from dirt and sand to mud and snow. Pitch Hoss hard and fast into a turn and Traxxas Stability Management goes to work behind the scenes to help keep you solidly on track while you're blazing new trails. Non-stop fun and performance always come first, so Hoss stays true to the Traxxas heritage of rugged strength and durability which is engineered into every component. Drive harder, go faster, hang tougher— Nothing stops the Hoss!
Check out the Traxxas Hoss 4x4 VXL RC Monster Truck doing what it does best!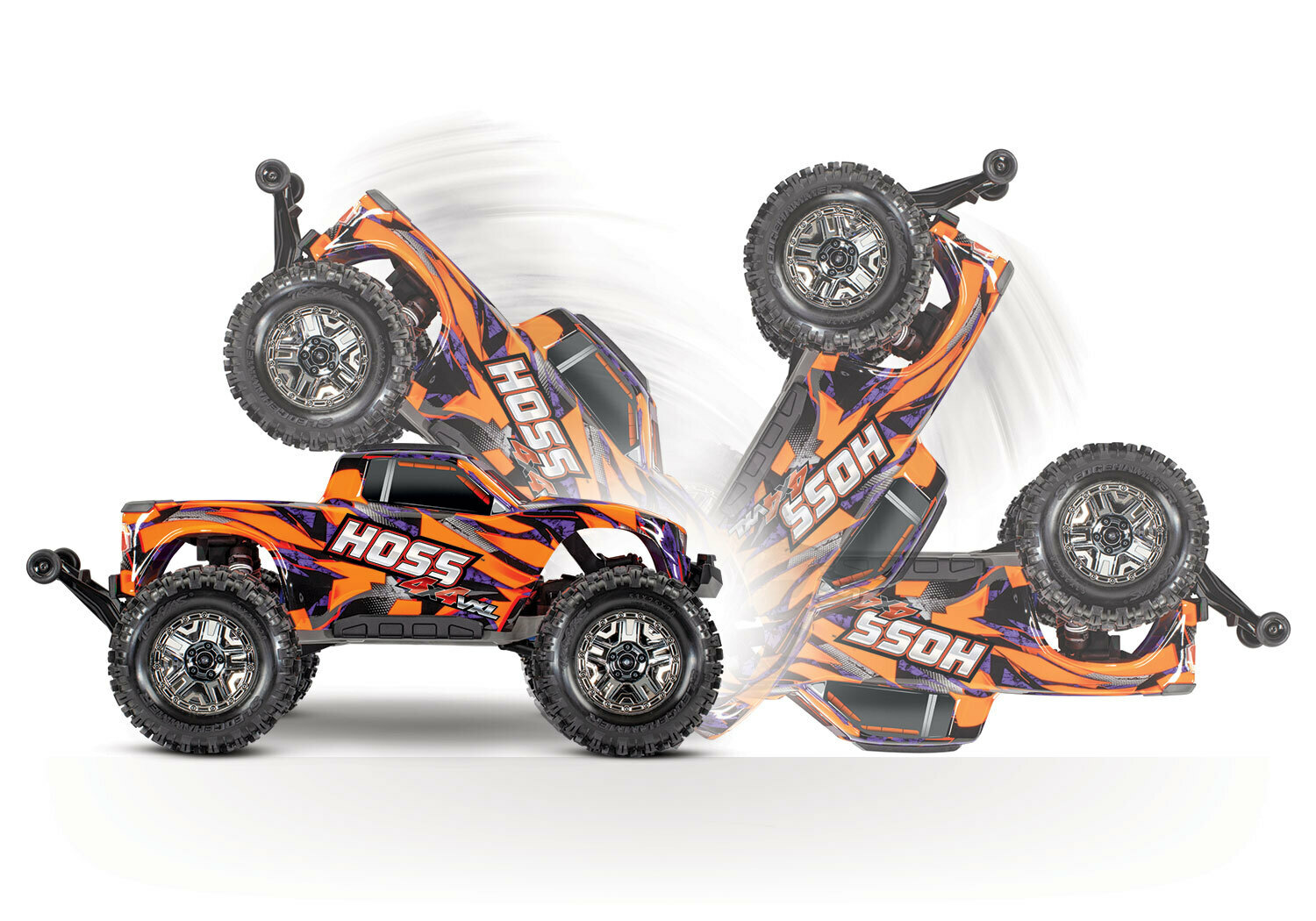 Hoss 4x4 VXL Unique Features:
Traxxas Stability Management
Traxxas Stability Management (also referred to as TSM) is included in Traxxas' latest receivers. It incorporates an advanced gyro system that detects when the tyre' loses traction beyond the control of the user and instantly corrects it to keep you on course. 
Extreme Sledgehammer Grip
The Hoss VXL 4X4 relies on huge Sledgehammer tires to put its massive torque to the ground. The 5.3-inch tall Sledgehammers lift the Hoss skyward for superior ground clearance and a menacing stance. The open-block tread design clears away mud and debris for unrivaled traction on loose surfaces. Sledgehammer tires come pre-glued with performance foam inserts and they're TSM-rated for speeds of 60mph and beyond!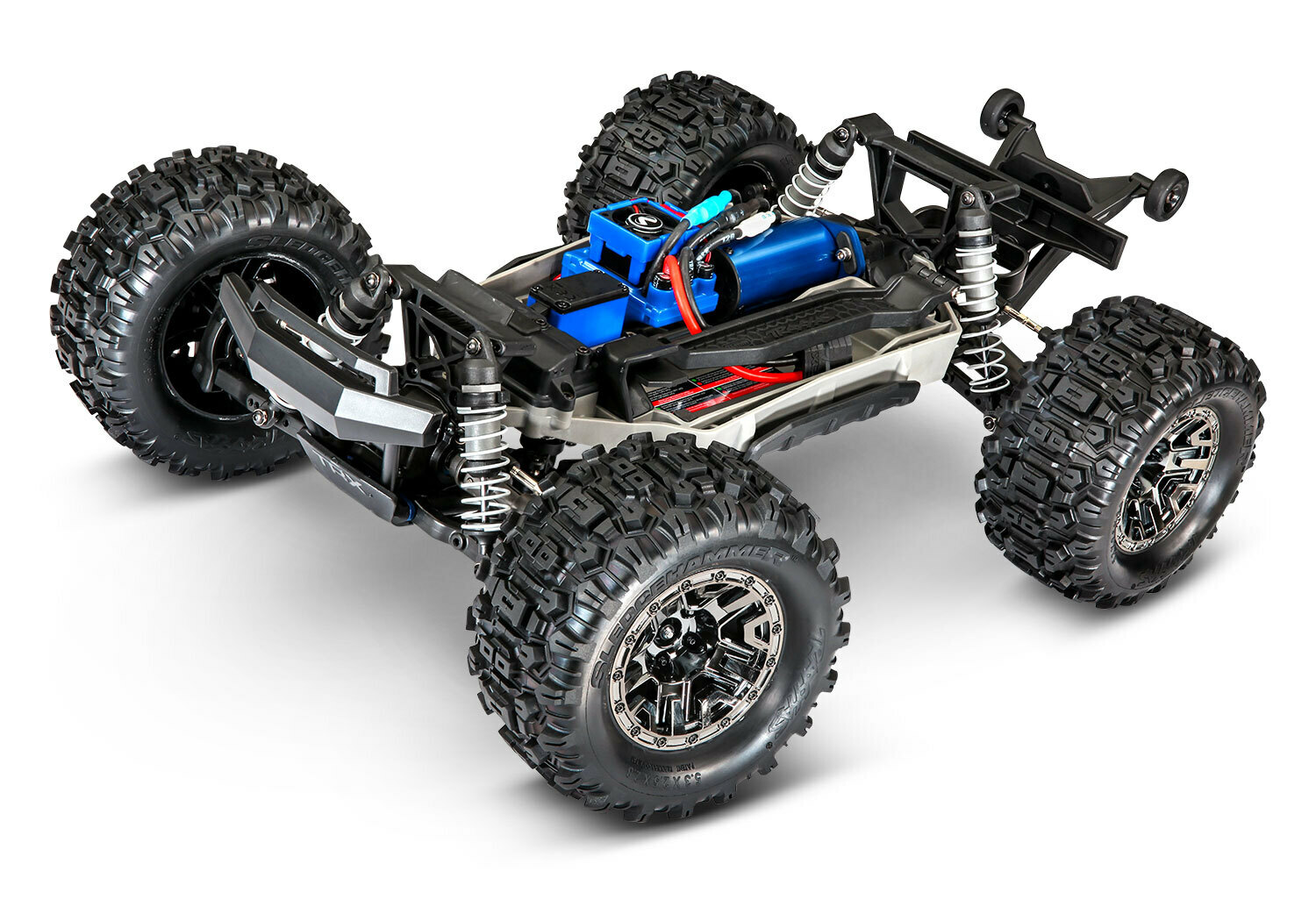 540XL Torque
For those who believe "there's no replacement for displacement," Traxxas has built a monster truck for you. The new Hoss 4X4 VXL packs the same Velineon 540XL brushless motor found in the Maxx extreme monster truck. It's the largest motor we've ever offered in a truck this size. The Velineon VXL-3s speed control rolls out the power smoothly utilizing large 6.5 mm connectors and an integrated cooling fan for fast, reliable fun.
Rock-Solid Drivetrain
A conventional 4-wheel drive system may work for your average RC truck, but average isn't in the Traxxas vocabulary. We pored over every inch of the Hoss' drivetrain, strengthening critical areas to handle the 540XL's immense power. A Torque-Biasing Center Drive outfitted with a steel spur gear replaces a traditional slipper clutch along with a tough aluminum center driveshaft and beefed-up extreme-duty axles. The resulting Hoss drivetrain is a model of both efficiency and brute strength.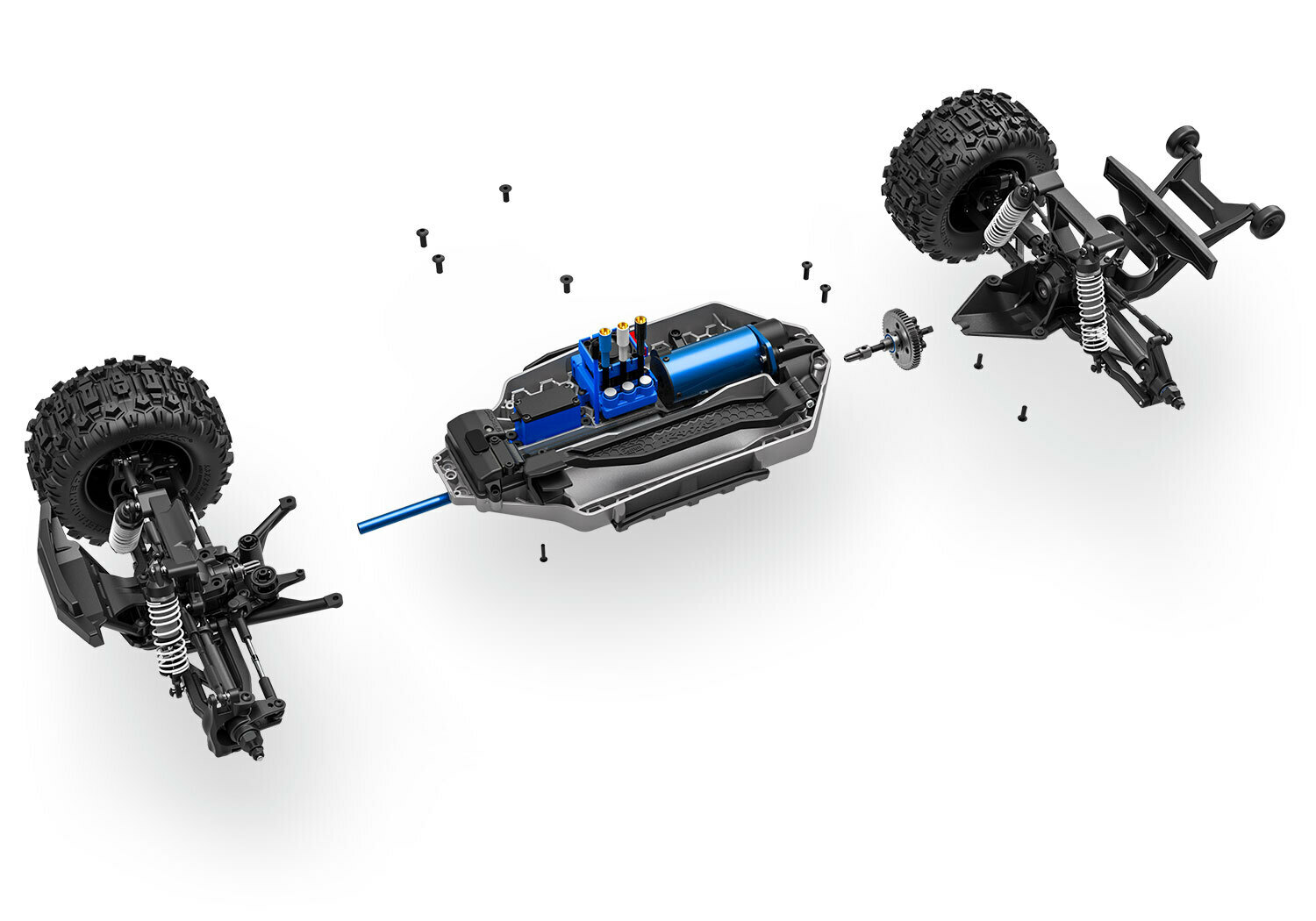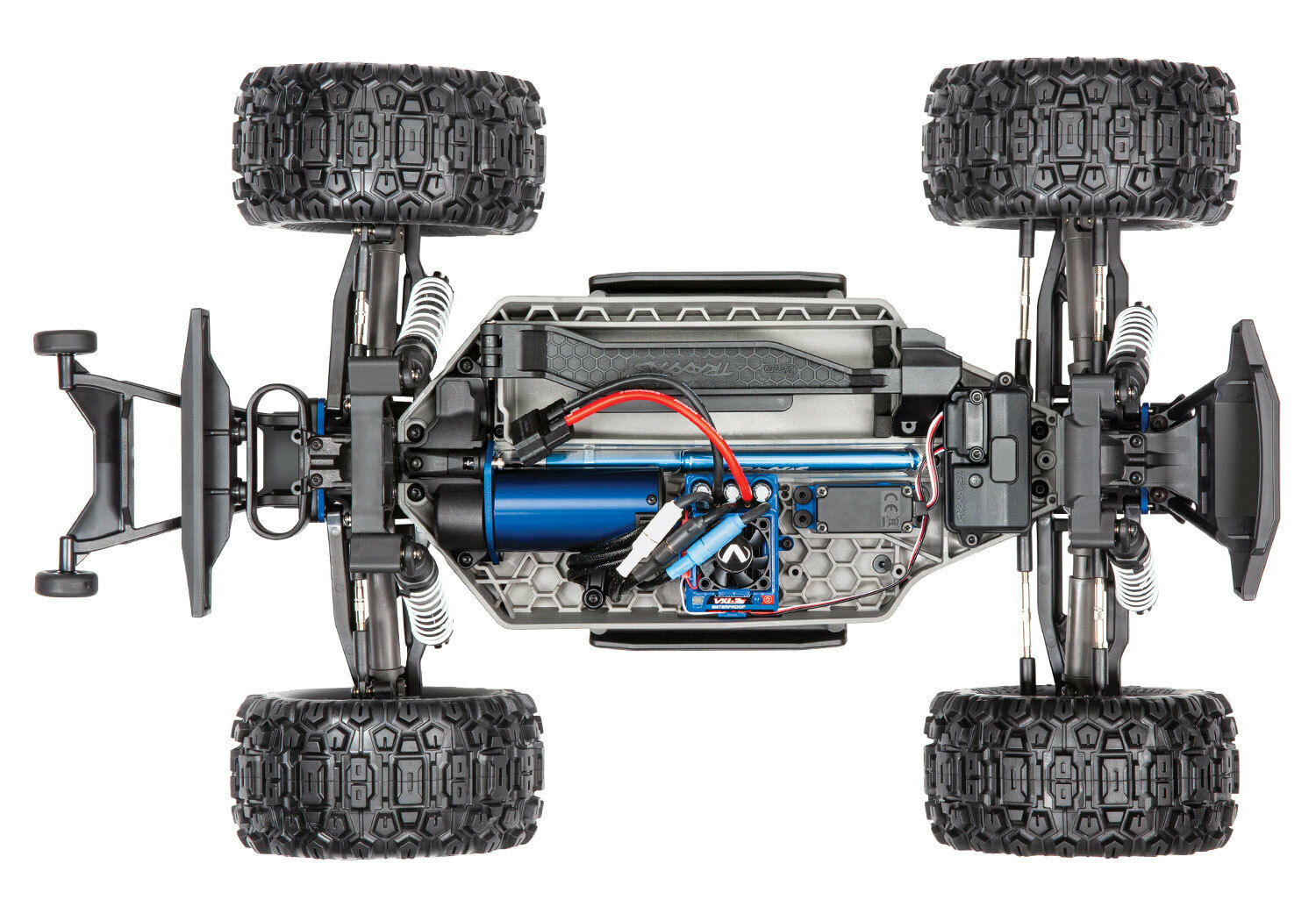 Other Features:
VXL-3s™ Waterproof Electronic Speed Control
Velineon® 540XL Brushless Motor
Up to 60+ mph or 100 Km/h with 3S LiPo battery
Traxxas Stability Management® (TSM)
Adjustable 4mm steel toe and camber links
New impact-resistant suspension arm composite
Oil-filled Ultra Shocks
Rugged front and rear shock towers
Chassis-mounted

 

servo
Dual bellcrank design with integrated servo saver
Transmission:

Single speed with Torque-Biasing Center Drive
Overall Drive Ratio:

10.99:1
Differentials:

Sealed, 2-gear
Chassis Structure / Material:

Modular composite tub
Brake Type:

Electronic
Full-time shaft-driven 4-wheel drive
Torque-Biasing Center Drive™ absorbs shocks and distributes power evenly
Extreme heavy-duty driveshafts
Oil-filled steel gear front and rear differentials
Large 32-pitch steel spur gear
Anodized-aluminum center driveshaft
Radio System:

TQi™ 2.4GHz 2-ch transmitter with #6533 TSM receiver
Servo:

Waterproof #2075
Top Speed (optional gearing):

60+ mph with 3-cell LiPo and 23/50 gearing
Skill Level: 1
Clipless ProGraphix® Body

Modular composite tub design
Secure battery hold-down latch
Reinforced integrated wheelie bar
High-approach bumpers
Integrated nerf bars for side impact resistance
Tall 5.3" Sledgehammer™ tyres with 2.8" Black Chrome Wheels
Sealed Ball Bearings
Hex hardware with Rust-Resistant Black Oxide Coating

Reinforced Front & Rear Bumpers

ProGraphix Body

Secure Body Latch


Modular Chassis

Heavy Duty Composite Arms

5-Channel Receiver with Failsafe 

Waterproof Receiver Box




Optimum Geometry Steering with Integrated Servo Saver

Digital High Torque Waterproof Steering Servo

VXL-3S ESC with Fan

Innovative Battery Hold Down

Chassis Nerf Bar

Velineon 540XL Motor

Fixed Gear Adapter

Heavy Duty 4mm Turnbuckles

Extreme Heavy Duty Driveshafts

Steel Gear Differentials

Extruded Aluminum Driveshaft

Heavy Duty Steel Spur Gear

Rubber Sealed Ball Bearings
What's In The Box
Hoss 4X4 VXL with Velineon® VXL-3s and 540XL
Quick Start Guide
TQi™ 2.4GHz radio system
High quality maintenance tools
Required items (not included)
7.4v or 11.1v LiPo Batteries

Charger
4 AA Batteries
Specifications
Length: 514mm (20.24")
Width: 333mm (13.10")
Height: 212mm (8.34")
Weight: 2.9kg (6.3 lbs) without battery
Wheelbase: 295mm (11.62")
Ground Clearance: 70mm (2.75")
Drivetrain: 4WD
Box size: 35 x 27.5 x 60cm
Shipping weight: 14.4Kg
Gross weight: 5.3Kg
Nett weight: 4.4Kg 
ESC Specs
Input Voltage (cells):

7.2V (6–9 cells NiMH), 2S–3S LiPo
Case Size:

2.19" (56mm) x 1.54" (39mm) x 1.65" (45mm)
Weight:

3.84oz (109g)
BEC Voltage:

6.0 V
Reverse Delay:

Yes, with lockout
Thermal Protection:

Two-stage thermal shutdown
Ports:

Auxiliary fan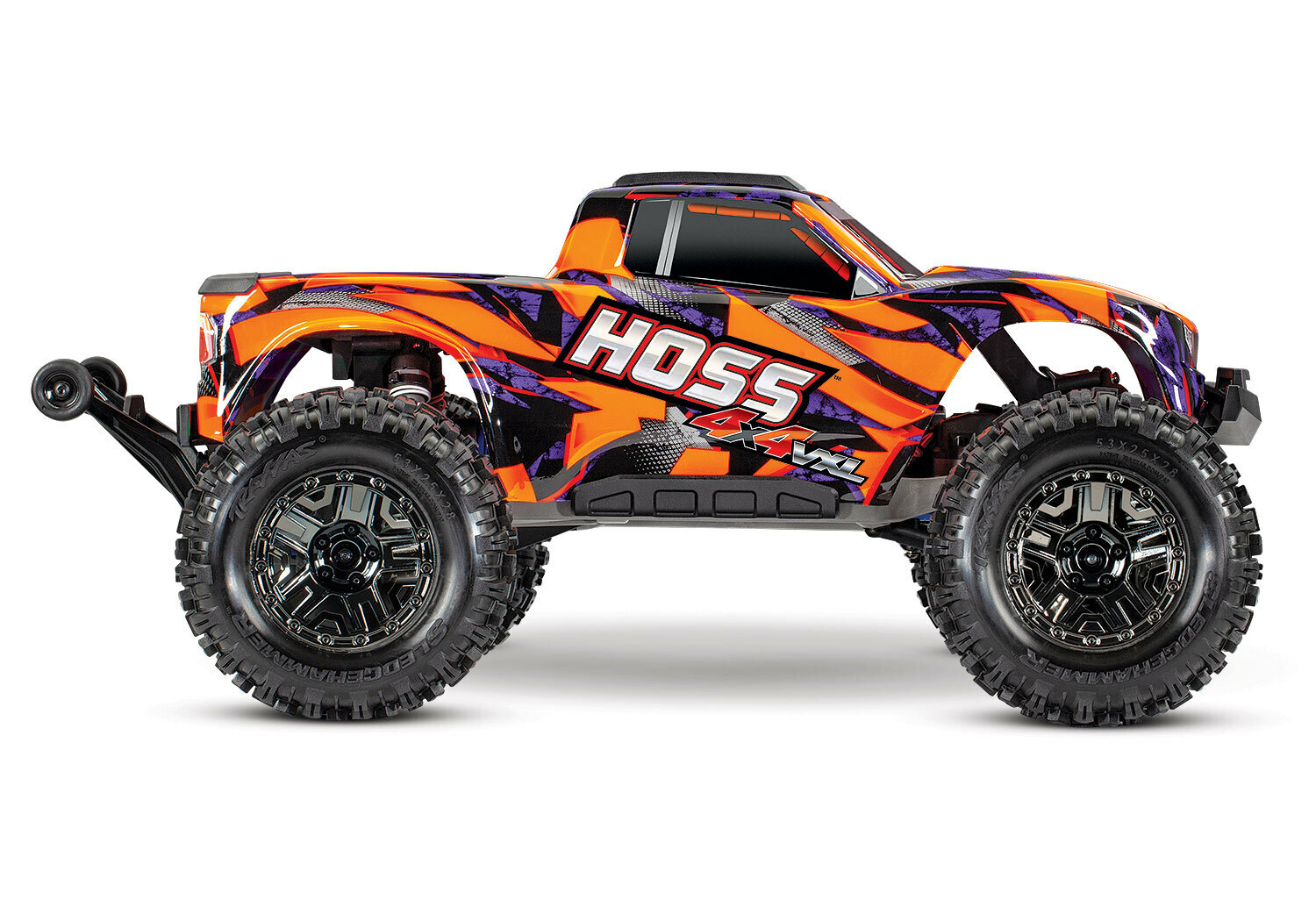 Car
Assembly Type:
Ready to Run
Max LiPo Power:
3S (11.1v)
Size (Scale):
1/10
Skill Level:
Intermediate
Power Source:
Electric Brushless
Chassis Type:
Truck
On/Off Road:
Off Road
Drivetrain:
4WD
Factory specs
Max LiPo power:
3S (11.1v)
Battery connector:
Traxxas iD
Front shock oil:
50w
Rear shock oil:
50w
Front differential oil:
30,000w
Rear differential oil:
Grease
Pinion gear:
14T 32dp/0.8Mod
Spur gear:
54T 32dp/0.8Mod
Wheel hex size:
12mm