FlySky GT2B 2.4GHz 3 Channel Transmitter and Receiver
FlySky GT2B 2.4GHz  3 Channel Transmitter and Receiver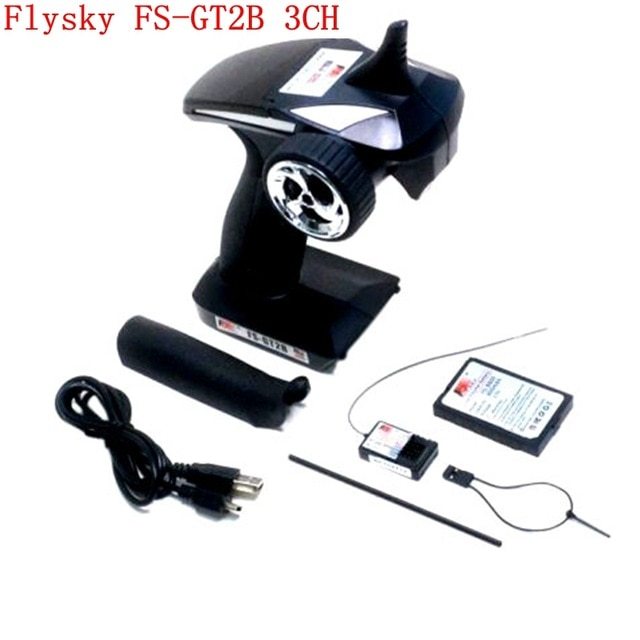 The FlySky GT2B features 3 channel operation, interchangeable hand grips, adjustable steering dual-rate, servo reversing and a rechargeable li-ion battery which eliminates the need for buying expensive AA batteries. The li-ion battery also makes this transmitter much lighter, which gives the user a great feel during use. No more lugging around a heavy transmitter holding 8 x AA batteries! 
Features: 
Reliable, Interference Free 2.4GHz AFHDS Signal Operation
3ch Operation
Fail Safe Function
Rechargeable Li-Ion Transmitter Battery 
Interchangeable Rubber Hand Grips
Adjustable Steering Dual-Rate 
Servo Reversing
  Suitable for RC Cars and Boats
Transmitter Specifications:
RF Power: 20dBm (100mW) max
Modulation: GFSK
System Type: AFHDS
Sensitivity: 1024
Low Voltage Warning: Yes
Charge Port: Yes (USB- charge cable included)
Power: 3.7V 800mAh li-ion (included)
Weight: 270g
Receiver Specs:
 GT2b
Model: Car/Boat
RF Receiver Sensitivity: -105dBm
Modulation: GFSK
System Type: AFHDS
Sensitivity: 1024
Failsafe: Yes
Power Port: Yes (VCC)
Power: 4.5~6.5 VDC  
Weight: 5g
Antenna Length: 26mm
Dimensions: 37.6 x 22.3 x 13mm
Included items:
FS-GT2B Transmitter
FS-GR3E 3ch Receiver
3.7V Li-Ion Rechargeable Battery Pack
Optional Second Rubber Hand Grip
Antenna Tube
USB Charge Cable
Bind Plug
User Manual
Basic Transmitter Settings:

In this video Hamish goes over understanding and adjusting the individual settings found on the FlySky GT2 hobby grade transmitter. Trims, reverse switches and dual rates are all covered in detail.