FMS Roc Hobby 1:12 Scale 1941 Willys MB RTR RC Jeep
FMS Roc Hobby 1:12 Scale 1941 Willys MB RTR RC Jeep
After the colossal success of the Jeep 1/6 ROC001RS, FMS RocHobby now offers a more compact version but just as beautiful and efficient in all terrain!
Just like its big brother the 1/6 scale, this 1/12 scale Willys Jeep features a realistic molded rigid body, including real mirrors, detailed dashboard, rubber tyres and removable accessories such as fuel can, ax, shovel, hood. , the windshield and a set of poles for an optional soft top.
The 1/12 Willys MB 1941 gives you even more!
More details, such as seats imitating fabric, a folding rear seat with opening bins, tires with model sculptures ...
More realism, since the chassis of the Willys MB is based on a robust scale reproducing its full-size counterpart, multiple leaf springs with shock absorbers, but also offset differentials, which makes this vehicle perfectly in line with the legendary and historic Willys.
More versatile, the Willys MB is equipped with a fantastic LED lighting system (4 indicators, 2 headlights and a blackout light), to explore the dark at night.
In addition to the finish and model details, its 2.4 GHz transmitter offers modelers the possibility of taking full advantage of the trails with a two-speed transmission option (Crawling mode and Beginner mode), as well as alerting the user with a low battery alarm, an alarm for forgetting to turn off the transmitter, motor overload protection and more!
Sometimes smaller is even better! The legend is still alive: here is the Willys MB 1941!
Details like a real car
Four automobile leaf springs at the front and rear.
When the car is braking, the turn signal, fog light, etc. can be displayed independently.
Multifunction remote control
Two speed adjustment gears(Fast speed:8km/h; Slow speed: 4 km/h).
Motor overload protection(Protect motors, ESCs, etc. from damage when the electric current is large).
Features:
1: 12 REALISTIC MODEL - 1/12 Scale delicate Army Green body with fine pad-printing design, have precise details both in size and detail, like real rear-view mirrors, detailed dashboard, rubber tires, and removable accessories such as a fuel tank, an ax, a shovel, a functional hood, and a folding windshield. Making this off-road vehicle exquisitely equal to the legendary historical Willys Jeep.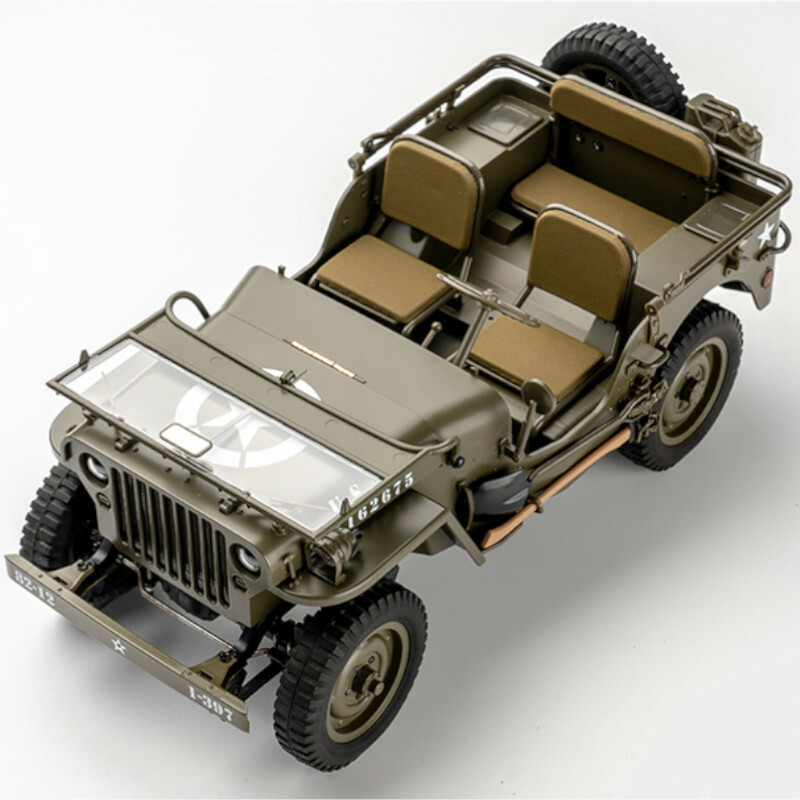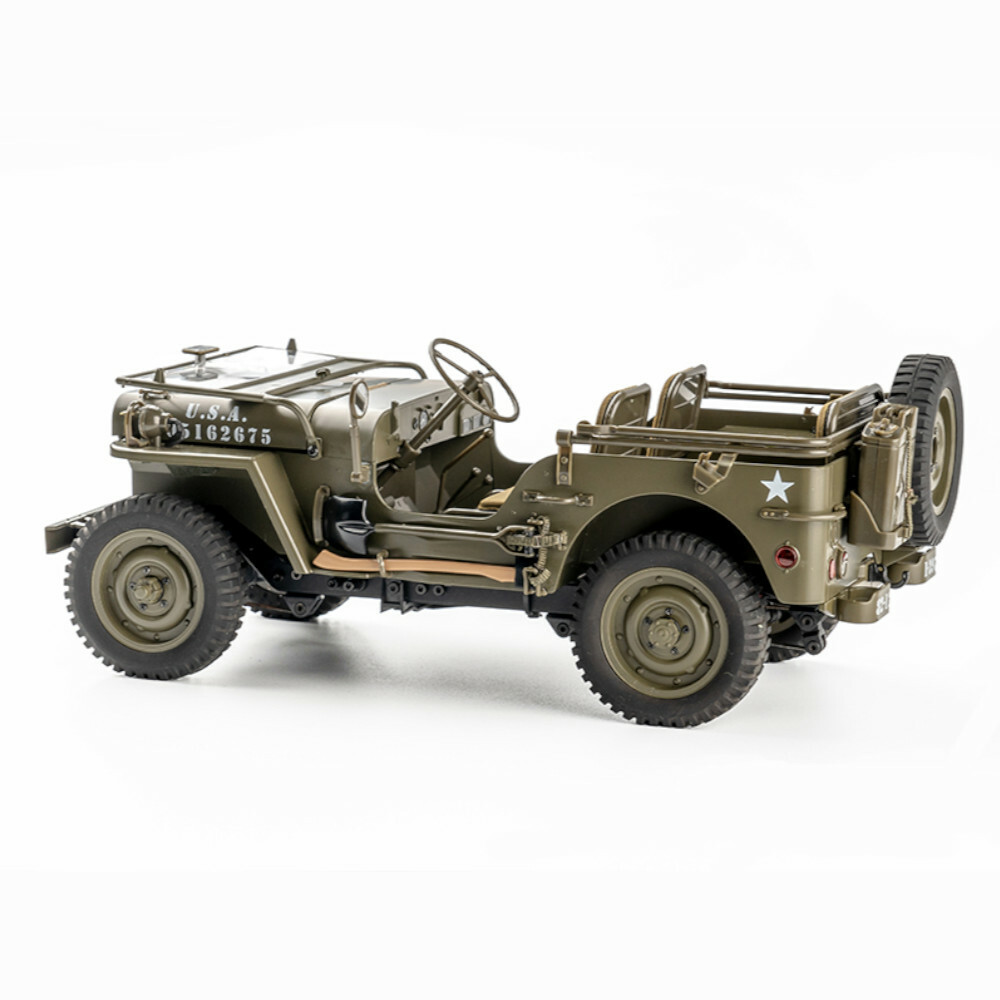 PROFESSIONAL AND POWERFUL DESIGN - Equipped with 2.4Ghz radio system, smart light effect, low-battery warning, forgotten alarm, motor overload protection, and more function. Multi-leaf springs with dampers as well as offset differentials absorbs rough terrain with ease, help the 1941 MB Scaler RC Jeep driving on all terrains like beach, sand, rock, or concrete road.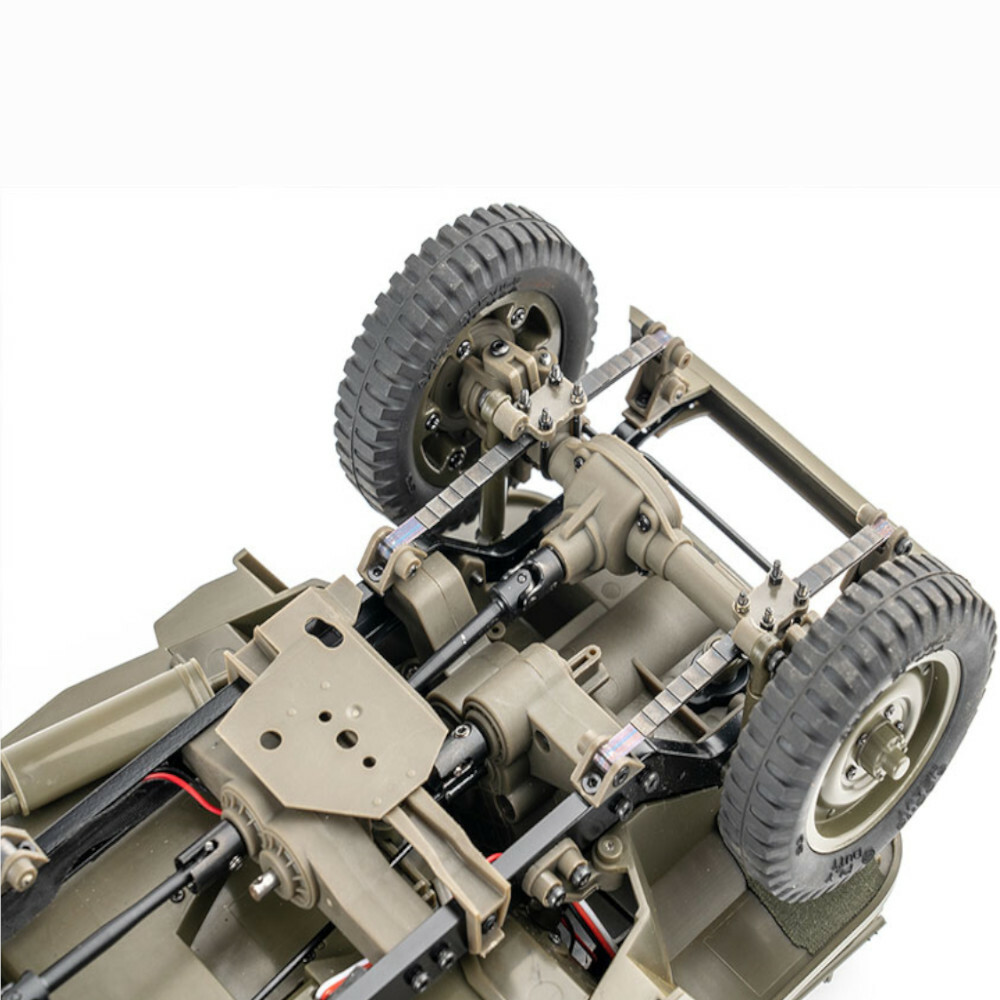 2 SPEED TRANSMISSION - The Beginner Mode with 50% accelerator limitation helps the beginner get started on RC driving. When going gets tough, use the transmitter to shift into Climbing Mode for incredible 4-wheel drive pulling torque. Provides modelers from rookies to experts with the opportunity to enjoy exciting RC game.
MANEUVERABILITY AT ITS FINEST- Solid ladder frame rail compatible with a wide range of aftermarket components, perfectly matching 1/12 action figures. You can modify your RC Willys according to your preferences. 
READY FOR ADVENTURES - The 1941 MB Scaler RC crawlers is ready to run out of the box. It includes a 7.4V 380 mAh NiMH Battery and charger. It is easy to handle the 1941 MB SCALER no matter you are a new hobbyist of RC cars or an advanced RC crawler enthusiast, perfect for outdoor or indoor RC adventure.
Specifications
Authentic 4-wheel drive transmission
Vehicle delivered with transmitter, receiver and battery
Army green body finely reproduced with silk
screen printing - Realistic model details including fabric-like seats, mirrors, dashboard, suspension with leaf springs and - shock absorbers, real tires and a ladder frame with metal rails
Movable model elements and additional accessories like the rear seat, the shovel and the ax, two bins, the windshield, a spinning wheel and a gas can
Fits perfectly with 1 / 12th figures
Up to 7 LED lights are included for night driving
Optional parts (sold separately) such as the hood, machine gun or trailer can complete the finish
Length: 278mm
Width: 136mm
Height: 140mm
Wheelbase: 169mm
Ground clearance: 24mm
Max speed: 8km / h
Radio range: 50m
Autonomy: 20 minutes
Servos 9g
Motor 180 Brushed
Included items:
1:12 Scale 4 WD RC Jeep 100% assembled
2.4Ghz anti-interference free remote control
2S 7.4V 380mAh Lipo battery
USB charger
Owner's manual
Attractive carrycase