Volantex Eachine Remote Control Tank 1/12 Scale (RC Crawler) Off-Road All Terrain RC Drift Tank
Volantex Eachine Remote Controlled 1:12 Scale RC Tank Off-Road Crawler 
Full Proportional Control 2.4 Ghz, Belt Driven RC Tank with Head Lights with High Speed up to 12km/h
This is a highly sophisticated high speed RC Tank which is capable of driving in all terrain.  
Scale: 1/12
Speed: 12km/h Power system ESC:No pole
Motor: Brush 380
Differential: double planet
Transmitter Frequency: 2.4G  4 x AA batteries (not included)
Tank Battery: 7.4v 1200mAh


Features:
1. Battery protection: Protection against overcharging of the battery.
2. Low voltage protection: The receiver automatically stops working when the battery power is lower than 6.5V.
3. High temperature protection: When the working temperature of the receiver is higher than the setting, the receiver will protect the drive control circuit; after the temperature is normal, it will work again.
Fucntions:
1. Simulated dual-flow drive gear case.
2. 1200mAH large magnification lithium battery
3. 2.4G full-scale synchronous remote control system.
4. In-situ rotation 360°
5. The distance between the trenches can get 10cm.
6. The climbing angle is 30°.
7. The gull-wing door can be opened and closed.
8. The front wheel self-adjusting the track tightness.
9. Wading depth up to 5cm
Two Colours to choose from;

Orange - Eachine
Black/Grey - Volantex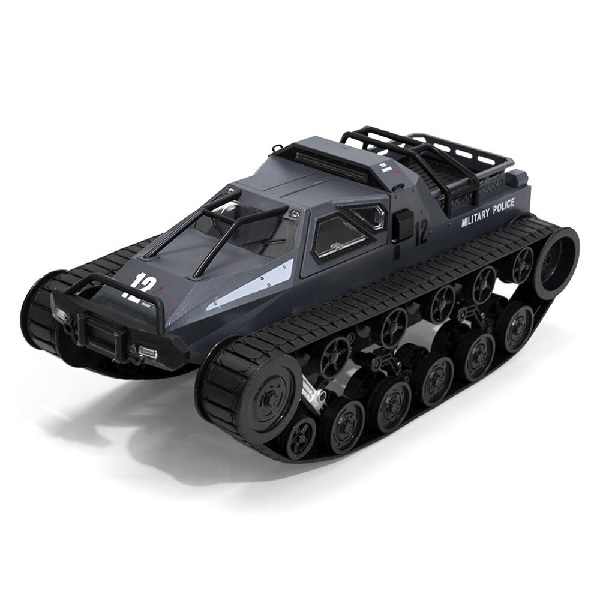 Package includes:
1 x RC Tank
1 x Controller
1 x Rechargeable battery(built-in)
1 x 7.4v USB Charger
Description:
Basic information
Brand:Eachine 
Model:1/12
Speed:12km/H
Power system
ESC:No pole
Motor:Brush 380
Differential:double planet
Transmitter
Frequency:2.4G
Battery: 4XAA battery(not included)
Battery:
7.4v 1200mAH
others
Charge time: 120 mins
Using time:  20min
Control distance: 80m
Function: forward,backward,left,right
Proportional control:proportional control
Dimension
Size: 34.3x17.4x14.5CM
Package Size: 37x18.7x21CM