Huina 1561 2.4GHz 22CH 1:14 Scale RC Fire Truck With Water Shooting Function
Huina 1561 2.4 GHz 22CH 1:14 Scale RC Fire Truck With Water Shooting Function
The Huina 1561 is a super-large 22-channel remote control simulation water spraying Fire Truck, with 2.4 GHz wireless remote control.  Equipped with 7.4V 1200mAh large-capacity battery for front and rear, left and right movement with proportional control, and has the capacity over 5 meters of spray distance.  Also fitted with front and rear Lights, simulated Fire Truck lights and siren sounds.  It has a 300ml large-capacity water tank for one-button remote control water spray.  Experience the closest to the real thing!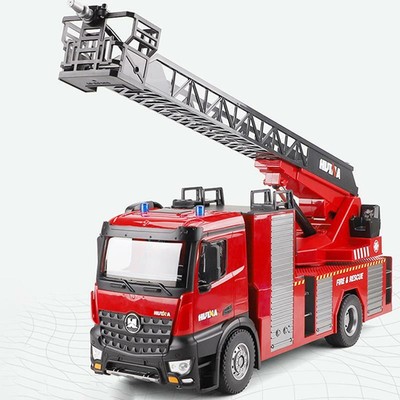 Features
HUINA" the Most Trusted and Reliable RC Truck Brand – New for 2021/22, this fully proportional fire truck is made of high quality, non-toxic durable materials and full of latest technologies. It has passed safety tests and is safe to play for "Fire Fighters" of all ages. It is ready-to-go out of the box.
One-Button Remote Water Spray – With one-button remote control, this fire truck can spray water reaching to over 5 meters in distance. The convenient design makes it easy to refill the 300ml water tank. The 270 rotating console can be remotely controlled to spray water covering up all areas around.
Realistic Ladder, Siren, Lights and Alarm – Like a real fire truck, this RC fire truck equipped with fire-fighting ladder that can be raised up to 60cm, and the ladder position can be adjusted to control water spraying directions. The siren, the flashing LED lights, and the emergency alarm all make you feel like a hero putting out a fire in real life.
All the Latest Cool Technologies in One Fire Truck – The 2.4GHz, 22 channel anti-interference remote control can reach up to 30m (98ft) while performing multiple movements. The High-capacity 7.4V 1200mAh rechargeable battery yields up to 30 minutes playing time. With 2 batteries, you can fight big fires continuously for 60min. The strong grip rubber tires are suitable for all terrains. All these makes this fire truck way advanced than any other competitors.
The Perfect Gift and Fantastic RC Fire Truck – who doesn't want to be a hero? Who doesn't want to be a fire fighter? This Fire Truck will keep the kids (also adults) away from screens for hours. Kids will develop coordination skills, imagination and creativity. 
Skill level: Beginner
1:14 RC Fire Truck: 5m Water spray; simulation fire alarm sound and working lights

Can move in all directions - forward, backward, left, right.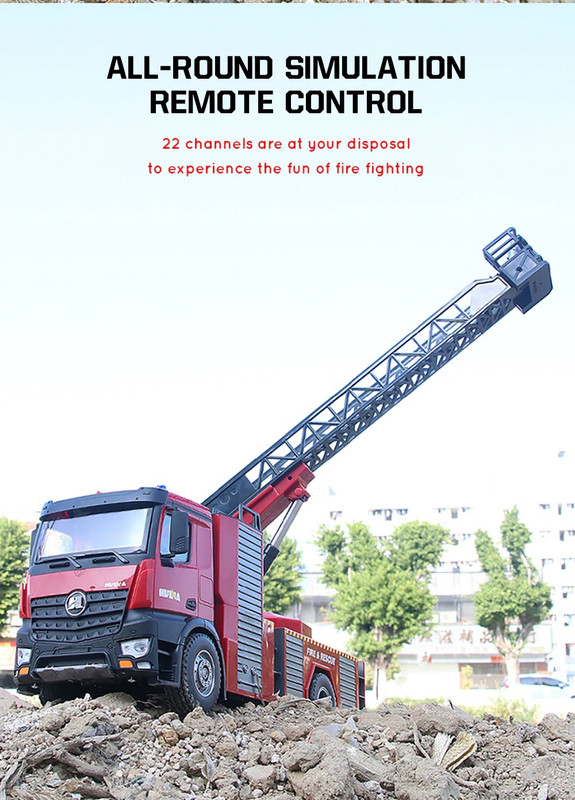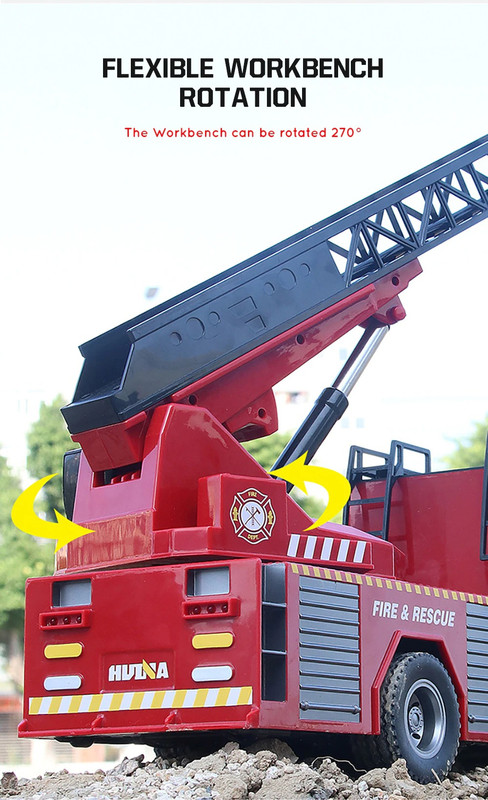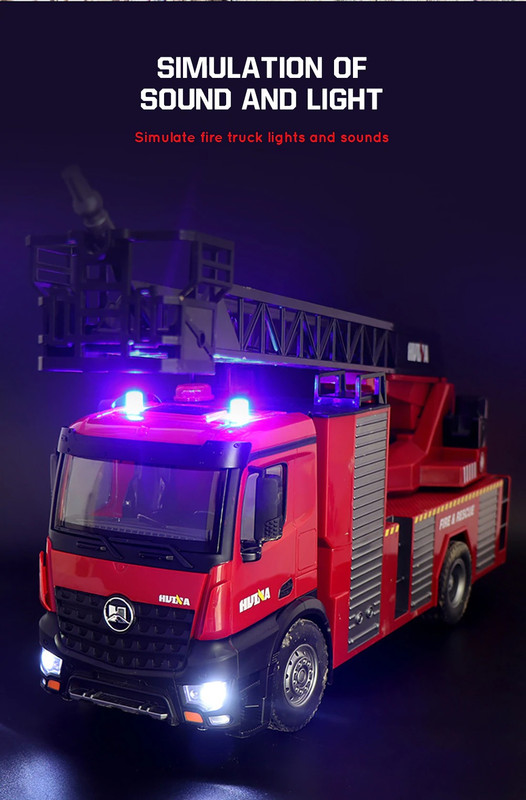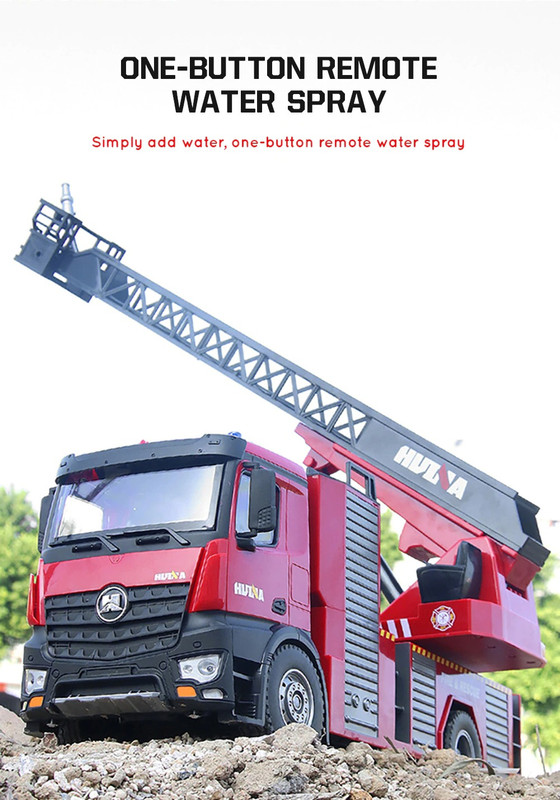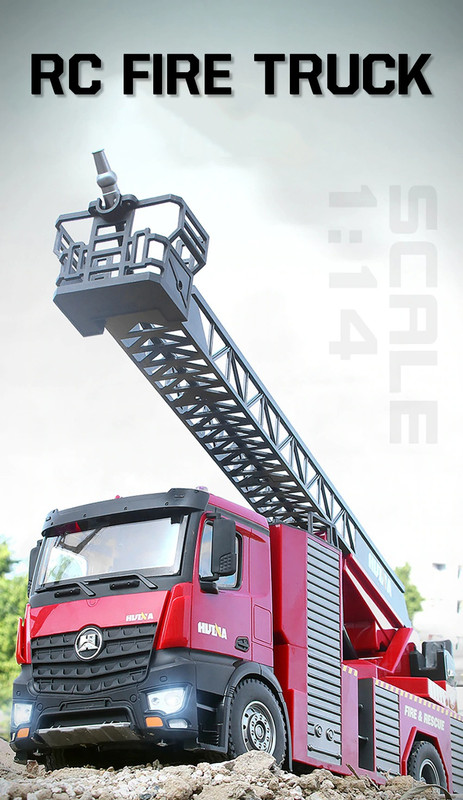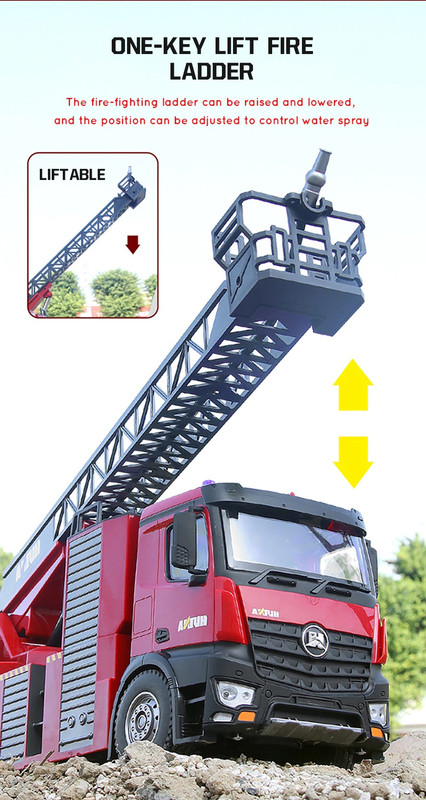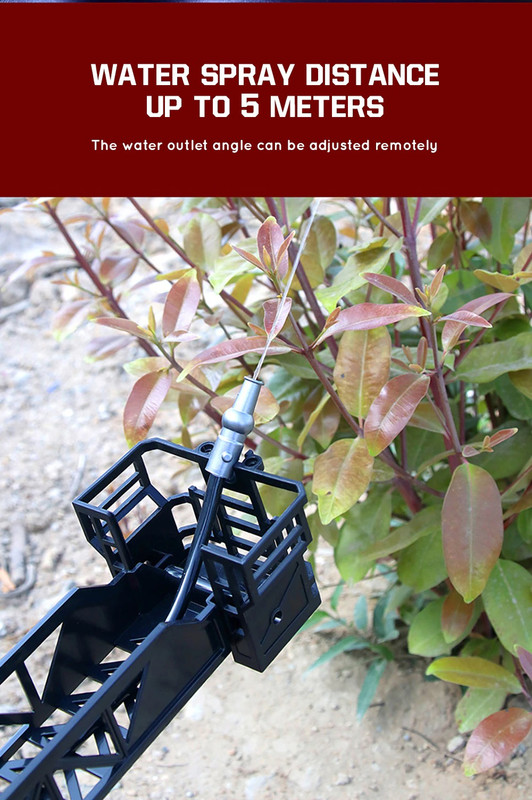 Radio Functions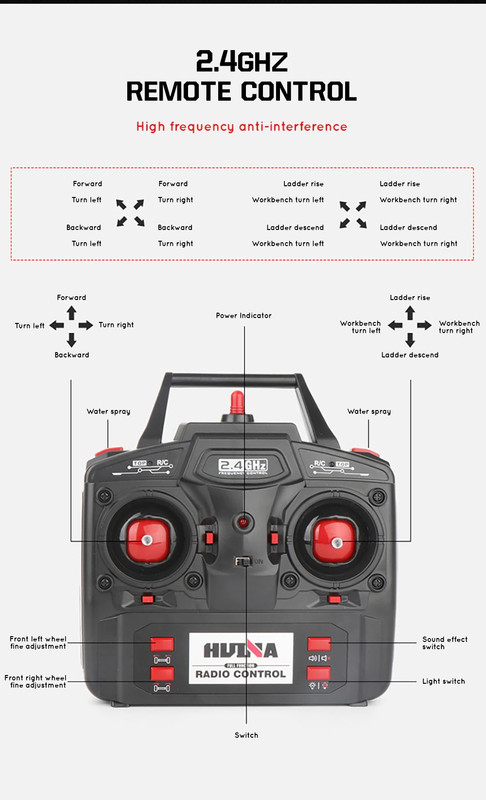 Features and further details
High-capacity 7.4V 1200mAh battery yields up to 30 minutes of play time.

Easy to add water, One-Button remote water spray.

The Workbench Rotates Flexibly . The 270°rotating console can be remotely controlled, and the remote control direction sprays water.

One-Key Lift Fire Fighting Ladder . The fire-fighting ladder can be raised and lowered, and the position can be adjusted to control water spraying.

Equipped With LED Lights . The lights are flashing and the night is more cool.

Strong Grip Rubber Track . Suitable for all terrains, stone piles, sand, cement roads, smooth floors, friction resistance

2.4GHz Technology Radio and Receiver adopted for Anti-Interference use.
Technical specifications:

Product Size: 47x15x28cm
Weight: 4.750 kg
Color: Red

Battery: 7.4V 1200mAh lithium battery
Use time: 30 minutes
Charging time: 2-3 hours
Remote control battery: 4 x 1.5V AA ordinary battery (not included)
Remote control distance: about 50 meters
Remote control frequency: 2.4GHz
Included items 
RC Fire Truck
2.4Ghz Transmitter
7.4v 1200mAh Li-Ion Battery
USB Charger
Manual