HSP 4WD 1/10 Scale RC4 Off Road Rock Cruiser - V3
HSP 4WD 1/10 Scale RC4 Rock Cruiser V3 - 136100V3FD
Super All Terrain Rock Crawler
HSP has introduced new 1/10 RC4 rock crawler, with a new 4WD chassis and a new range of pre-painted scale 1/10 body shells, the new chassis features realistic front and rear bumpers, aluminium suspension links all powered by a hi-torque 390 brushed motor! This package also come's with a 2A fast charger that will fully charge the included 1500mah battery in just 60 minutes.
New Features
In terms of appearance, RC4 V3-FD bodyshell shows more realistic through the clear window and the hidden front body post. With the added body accessories, such as front and rear bumper, air grill, rear-view mirror, roof rack, etc., the RC4 V3 reveals more realistic and awesome. Also, RC4 V3-FD is equipped with functioning rear and front lights.   In addition to the above, it also comes with all-new beadlock wheels is another important design factor.
"V3-FD",uses the more integrated chassis rail design, and has the removable axle cover. All the gears inside the diff are updated into metal material. More, V3-FD could reach 45 degrees maximum, on using the Ackerman angle design and the CVA front driveshaft. Besides, the battery tray mounted in front will prevent V3 from rollover when climbing


Whether you just want a reliable RC rock crawler to play with in the backyard or if you want to get right into the scale hobby of RC rock crawling the HSP Rock Cruiser is a great RC Rock Crawler for beginners.

Crawl at Night. The HSP RC4 now comes with pre-installed headlights and tail lights which will light up your track when driving at night. There are two white LEDs at the front and 2 red LEDs at the rear which are mounted directly to the bumpers so you don't need to worry about unplugging them when you take the shell on and off
Scaled Detail
The first thing you'll notice about the HSP RC4 is the amazing detailed body shell that's finished off beautifully.
Scaled Rims, Soft Tyres
Besides looking like a scaled-down version of the real deal these wheels perform superbly. When crawling over rocks these tyres form around them giving the RC4 the ultimate traction.
Good grip tyre mounted with 1.9-inch beadlock wheels

Aluminium Steering Hubs
HSP has thrown in some aluminium upgrades! That's right, the RC4 comes with aluminium steering hubs adding extra strength where it's needed.
Transmitter Features
3 Channel operation lets you control turn-signals and headlights from the X6!
Weighing only 297g (w/o batteries) the Gun style controller offers ultimate precision while reducing fatigue for longer driving sessions
Includes forward/reverse winch controls (optional part)
Receiver Features
An internal Gyroscope ensures maximum control and helps prevent unwanted drifting and roll-overs
Frequency-hopping spread spectrum (FHSS) changes frequencies on the fly to maintain the strongest connection to the transmitter
Smooth and stable connection to the transmitter at distances up to 500 metres
Fail-safe function protects the vehicle if there is a loss of power or signal from the controller
General Features
100% Waterproof Universal Driveshafts Hi-Torque 390 Brushed Motor Waterproof Brushed ESC Locked Front And Rear Differentials Aluminium Suspension Links Long Travel Suspension Super Soft Tyres 2.4Ghz Radio w/ In-built Radio 3Kg.
Waterproof Standard Size Steering Servo Large 1500Mah 7.2v NiMH Rechargeable ;Battery 2A Fast NiMH Charger Specifications Length: 415mm (16.33") Width: 195mm (7.67") Height: 230mm (9.05") Weight: 1501g (3.30lbs) (Including battery).
Wheel Base: 260mm (10.23") Ground Clearance: 76mm (2.99") Front Differential Clearance 36mm ( 1.41") Drivetrain: 4WD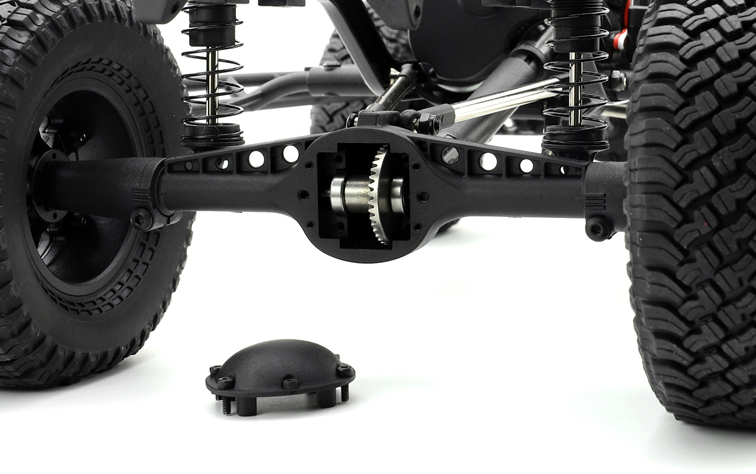 New 1.0 Steel C-type chassis rail with movable battery tray mounting in front or rear.

All ball bearing, New One-piece molded axle housing, the metal spool gear and removable gear cover could be installed for option,

New steering structure, the 45 degrees steering angle maximum,Positive Ackerman Angle, CVA universal metal driveshaft.

New special custom waterproof 40A ESC, 4 channel Receiver and Intelligent Light Control three-in-one electronic system, jointly 

developed by Fly Sky and Hobby Wing.

Full 4 wheel drive, with telescopic UJ main Drive Shaft , Nickel-plated heavy duty steel links.

                                                                                                                                            

Hidden front body post and flip body design, no hole in body surface Realistic Bodyshell, equipped with front and rear bumper, grill, rear-view mirror, roof rock and other body accessories, and the smart LED light set.
Required items (not included)
Specifications
| | |
| --- | --- |
| Assembly Type: | Ready to Run |
| Max LiPo Power: | 2S (7.4v) |
| Size (Scale): | 1/10 |
| Skill Level: | Beginner |
| Power Source: | Electric Brushed |
| Chassis Type: | Crawler |
| On/Off Road: | Off-Road |
| Drivetrain: | 4WD |
a
z