ARRMA 1/5 OUTCAST 8S BLX Brushless RC Truggy
ARRMA 1/5 OUTCAST 8S BLX Brushless RC Monster Truck 
EXPERIENE THE SIZE, SPEED AND POWER - BUT NOT FOR THE FAINT HEARTED!!!

'This ARRMA OUTCAST 8S BLX 4WD RTR is a huge 1/5 Scale Beast that is designed, engineered  and built for absolute speed, up to 80-90Km/h with brute power and toughness. Complete with a Spektrum DX3 Smart radio, Spektrum Firma Brushless motor and Smart ESC, this ARRMA OUTCAST Stunt RC Truck has the power, speed and durability to perform extreme stunts and literally outcast competitors'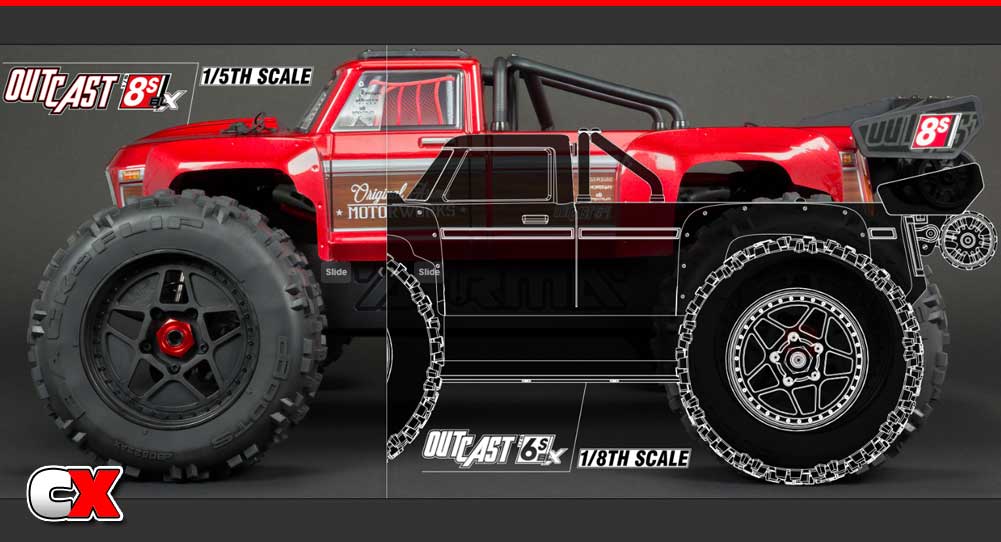 The undisputed King of Stunt Trucks just levelled up to a 1/5th scale 8S powered MONSTER, ready to throw down the biggest stunts on the toughest terrain.
Driven by 8S brushless power and an ARRMA®-tough design, the OUTCAST™ 8S BLX 4WD delivers the torque, acceleration and speed you need for extreme action in 1/5 scale. This ready-to-run stunt truck comes equipped to defy gravity right out of the box. From the heavy-duty front bumper to the wheelie bar in back, it's engineered to do it all: long, tall wheelies; tight, fast donuts; standing and aerial backflips; high leaps into the air; and more — over all terrain, in all conditions. 
The OUTCAST™ 1/5 8S BLX 4WD includes a Spektrum™ DX3™ Smart transmitter and SRS6110AT AVC® (Active Vehicle Control®) receiver that take full advantage of the Spektrum™ Smart Firma™ brushless motor and ESC's innovative telemetry capabilities. Download the free Spektrum™ Dashboard App to your mobile device and follow motor RPM, ESC temperature, receiver voltage, drive pack voltage and more data in real-time. Dial-in extra stability with the radio's AVC® system to carve corners and nail jumps without letting up on the throttle.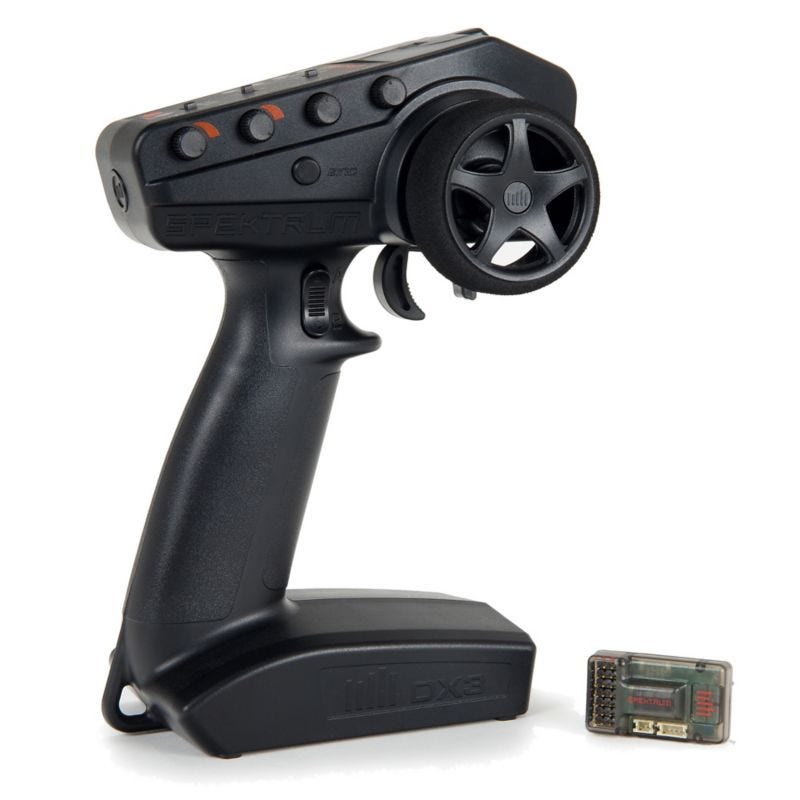 The ARRMA® 1/5 scale OUTCAST™ 8S BLX 4WD Stunt Truck features a metal-reinforced design that lets you blast up, over and through bruising obstacles. Metal shafts, turnbuckles and outdrives, plus all-metal internal gears, give the drivetrain and suspension system unstoppable strength. Even the included Spektrum™ S905 digital servo boasts the strength of metal gears.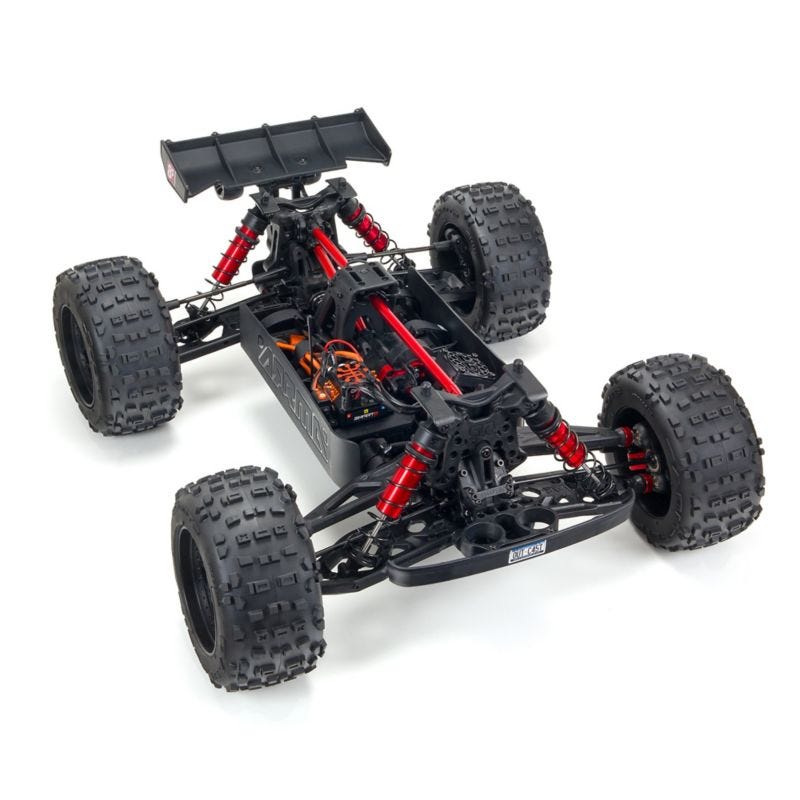 One of the other significant features is the extra-rigid, laser-etched, anodized Aluminum chassis plate has a multi-structured center brace system, rear lower chassis brace and strong composite chassis side pods for the durability to support extreme stunts. It also has extra-thick molded composite front and rear shock towers hold massive 20mm bore, oil-filled adjustable shocks to soak-up bumps and jolts.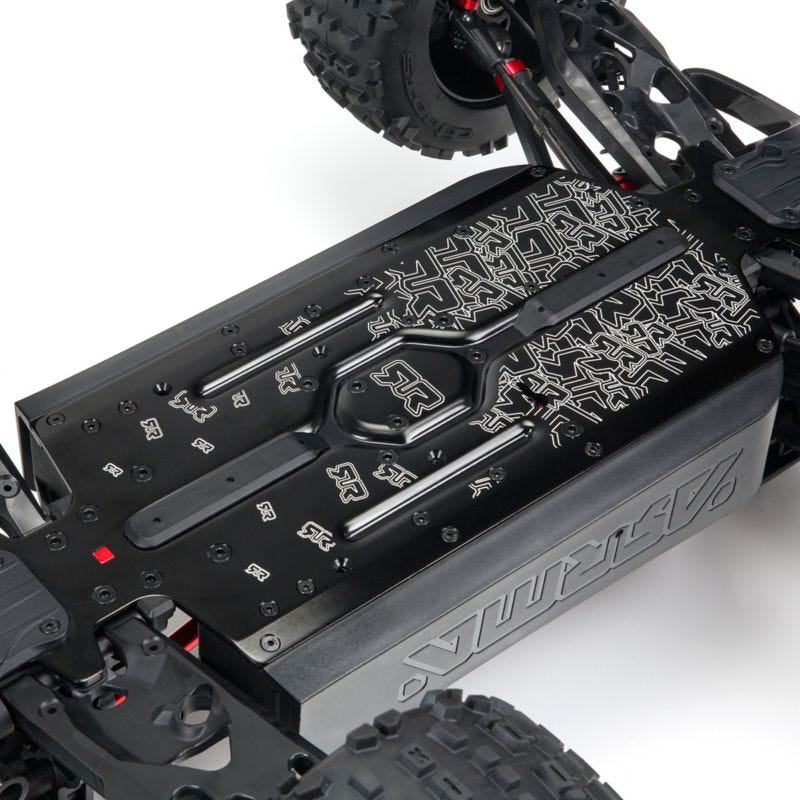 ARRMA® keeps your maintenance time to the minimum with an efficient, driver-friendly design. A sliding, 3-bolt aluminum mount provides fast motor access. The vehicle's front, rear and center modules and waterproof electronics module are also engineered for quick and easy access, removal and maintenance.
The Ultra-tough OUTCAST™ 1/5 8S truck body arrives factory trimmed, painted and decaled. A center protection tower on the chassis interfaces with the roll cage for increased body durability. Its tough stunt truck wheels come outfitted with metal 24mm hex inserts and multi-terrain dBoots® BACKFLIP tyres that provide all the traction you'll need to flip, grip, wheelie and spin. A high downforce wing helps keep the vehicle grounded — and a wheelie bar is there for when only 90 degree wheelies will do!
You'll turn heads with the OUTCAST's striking Red coloured body that is fitted with a high downforce wing and an integrated wheelie bar. Not only does it look good, but ARRMA have included a centre protection tower on the chassis and combined it with a roll cage to increase the durability of the body.
To get you up, over and through obstacles as well as providing you with the traction to perform stunts and tricks, this ARRMA RC car is fitted with multi-terrain dBoots BACKFLIP tyres on stunt truck wheels with 24mm hex inserts. Just add your choice of batteries and charger, and you're ready to push the OUTCAST 1/5 8S BLX 4WD Stunt Truck to its limits.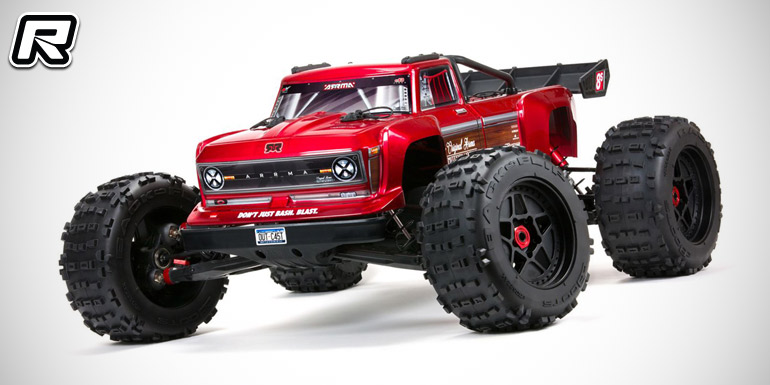 Features:
Striking Red body with body clip protection pads
8S power with an ARRMA-tough design and custom-build' options
Chassis plate is laser-etched Aluminium with moulded composite front and rear shock towers.
General Features
ARRMA®-tough design
ARRMA® modular platform with many "custom-build" options
Adjustable battery boxes with hook and loop straps
Chassis brace options including tower-to-tower
Reverse bell crank steering system
Heavy-duty double spring servo saver
Hex hardware throughout
Versatile chassis accepts motors up to 56110 size and 1/6 or 1/5 size servos
2-year limited warranty (see website for details)
Performance
Spektrum™ DX3™ 2.4GHz Radio with SRS6110AT AVC® Receiver
Spektrum™ Firma™ 160A Smart ESC
Spektrum™ Firma™ 1250Kv Brushless Motor
Spektrum™ S905 Metal-Geared Digital Servo
4-Wheel shaft drive
8S Power

 (two 4S batteries, not included)

Anti-roll bars (optional, not included)
Adjustable camber
Adjustable front toe
Rear adjustable camber link positions
Adjustable ride height
Adjustable droop
20 million cSt oil in center differential
CVD driveshafts
All-terrain dBoots® BACKFLIP tires
Massive 20mm bore oil-filled adjustable shocks
Wheelie bar with rubber tires for maximum stunting
High downforce wing fitted with special wear screws to protect the wing when upside down 
Durability 
Extra-rigid, laser-etched anodized aluminum chassis
Multi-structured center brace system
Rear lower chassis brace
Strong composite chassis side pods
Under-chassis skids
Metal inserts molded into the front steering knuckles
Metal wishbone covers to prevent the pivot ball from pulling out of the arms
Extra-thick molded composite front and rear shock towers
Heavy-duty drivetrain
Durable Steel Drive shafts
All-metal diff outdrives and gearbox internals
Spiral-cut crown/pinion gears
Metal differential gears
Metal spur/idler gear
Aluminum sliding motor mount
Heavy-duty dual spring servo saver
Waterproof* receiver box
Electronic ESC power switch
Captured hinge pins
Aluminum hanger inserts
Center protection tower that interfaces with the roll cage for increased body durability
Body clip protection pads on top of body
Single piece wing mount
Heavy-duty front bumper
Metal 24mm hex inserts in wheels 
Wheelie Bar 
Easy Maintenance 
Easy access to front and rear differentials (5 screws)
Easy-to-remove Power Module (5 screws)
Sliding motor mount for easy motor removal (3 screws)
Easy-to-remove chassis braces (1 clip with retainer)
Easy-to-remove front, rear and center modules
Easy-access waterproof* electronics module
Specifications 
Length: 714mm (28.11")
Width: 596mm (23.46")
Height: 305mm (12.01")
Weight: 11kg (24.4lbs) (without battery)
Wheelbase: 430mm (16.93")
Drivetrain: 4WD
Box Size 78.5cm X 64cm X 36cm - Gross weight 18KG
Included items 
OUTCAST™ 1/5 8S BLX 4WD Stunt Truck RTR 1Pc
Spektrum™ Firma™ 160A Smart ESC 1Pc
Spektrum™ Firma™ 1250Kv Brushless Motor 1Pc
Spektrum™ S905 Metal-Geared Digital Servo [40kg-cm; 556 oz-in @ 7.4V] 1Pc
Spektrum™ DX3™ 2.4GHz Radio with SRS6110AT AVC® Receiver 1Pc
Wheelie Bar
Product Manual 
Required items (not included) 
4 x AA Alkaline Batteries for the Radio
2 x 14.8v (4S) 5000Mah 50C LiPo batteries with EC5 connector (Size approx: 170mm x 55mm x 53mm).  See Team Orion 14.8v 7800mAh or Gens Ace 4S batteries on our website. 
LiPo Balance Pro-Charger (SkyRC T200 or similar Dual Port Charger)
Large and in charge - that's what the ARRMA OUTCAST 8S BLX 4WD Stunt Truck is all about. Powered by an 8S brushless system combined with ARRMA's heavy-duty components, this 1/5 scale juggernaut is designed to withstand extreme bashing action and stunts including huge jumps, wheelies, donuts, front flips, aerial and standing backflips and more.
Note: Not Recommended for Beginners.  Skill Level: Advanced / Expert 
Car Specifications
Assembly Type:
Ready to Run
Max LiPo Power:
8S (29.6v) (2 x 14.8v)
Size (Scale):
1/5
Skill Level:
Expert
Power Source:
Electric Brushless
Chassis Type:
Truggy
On/Off Road:
Off Road
Drivetrain:
4WD
Factory specs
Max LiPo power:
8S (29.6v)
Battery connector:
IC5
Front shock oil:
500cSt
Rear shock oil:
500cSt
Front differential oil:
100,000cst
Centre differential oil:
20,000,000cst
Rear differential oil:
100,000cst
Pinion gear:
19T 1Mod
Spur gear:
47T 1Mod
Wheel hex size:
24mm