HSP Nitro 1:10 Scale 2.4GHz 4WD Off and On Road RC Buggy
HSP Nitro 1:10 Scale 2.4GHz 4WD Off and On Road RC Buggy
Please Note:-
While Nitro fuel powered RC Cars are fun and exciting to drive and/or race, we do not recommend them for everyone, unless you have used Nitro RC Cars before and have the experience in starting, running and maintaining them. 
Also Note: Techno Hobbies do not carry all parts or undertake repairs for all types of Nitro RC Buggies or Monster Trucks.
The HSP NITRO cars are specifically designed by HSP for Nitro car enthusiasts. With its striking blue or green body covers that are highlighted by metallic ghost flames, matching blue and green wings and color coded blue aluminium parts and red for the green Buggies perfectly compliment their colour accents on the center of the bright chrome wheels, this buggy performs as good as it looks.
The HSP 4WD Nitro RC Buggies offer outstanding value for money compared to other brands of Nitro RC cars on the market and must be considered before purchasing any Nitro fuel powered RC car.
Powerful Nitro Engine
Upgraded Shock Tower
We also hit the HSP upgrade parts list and added an upgraded shock front tower that is manufactured from a much thicker and stronger grade of aluminium than previous models. The heavy duty construction of this component helps by keeping the shock absorbers aligned to to the correct geometry to provide maximum reaction.
Aluminum Chassis
All our HSP Nitro Powered 1/10 vehicles employ a solid aluminium T6 grade chassis that provides a solid stable platform to mount all the supplied components to. This chassis offers superior rigidity and protection to all the on-board hardware and electronics along with being color coded to compliment the striking looks of the unit.
Adjustable Suspension
All 4 shock absorbers on the standard HSP models are adjustable and allow the operator to dial in the suspension to suit the type of terrain they want to operate on. HSP have a unique "c shaped clip" that fits around the shock body just above the spring giving 2 different suspension adjustment settings. Fit this "c clip" to the shock and you can apply more pre-load to the spring for a firmer rate when running on a smooth surface to reduce body roll or take the clip out for a softer rate when running on rugged off road environments where you need all the suspension travel you can get. Rear wheel camber is adjustable along with front wheel camber and toe in - toe out also being fully adjustable via a simple turnbuckle system on the steering arms. Your sure to find the set-up that is right for just about any operating surface.
2 Speed Transmission
The VX18 engine is coupled to a reliable 2 speed gear box that offers exhilarating acceleration from a standing start along with a taller second gear to maximise top end speed. The gearbox is mid-mounted and transfers its power to the front and rear differentials by solid steel drive shafts providing a true all wheel drive system to power your way around just about any terrain.

High Torque Steering Servos
Steering duties are commanded by a HSP 6001 6kg "High Torque" steering servo. The servo is also protected from heavy shock loads that can be amplified through the steering components while operating in harsh terrain by a unique "Servo Saver" system. A special spring loaded joint is incorporated into the steering system which helps dampen severe jarring to the servo and helps extend its longevity. The throttle and braking commands are also performed by the same model servo to make sure that you can stop exactly where you want and power away like a bullet every time.
Disc Brake System
This model 1/10 buggy is fitted with single disc brake system and is fully adjustable. This translates into a braking system that you can set just how like it. Make bite hard for big power "skids" or gentle so you don't wipe of too much speed on long flowing bends, the choice is yours.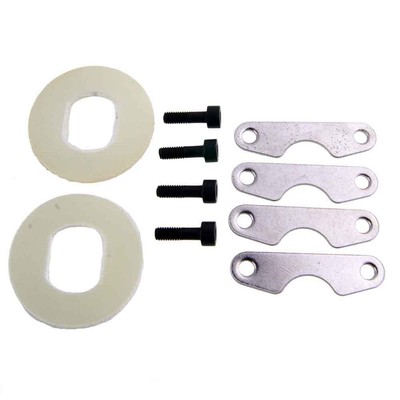 2.4GHz Digital Radio 
The supplied 4 channel 2.4 GHz receiver is compact and lightweight and comes matched to the transmitter out of the box. This receiver also offers superior interference rejection and has a fail-safe function that can be set by the user if signal is lost or transmitter voltage falls to low.
The radio has forward, reverse, left/right along with proportional throttle control and steering travel adjustment.
2.4GHz Digital Proportional System (DPS).
2-channel transmission.
Super fast seamless response time.
Smooth bearing supported steering wheel with auto centering.
Steering travel adjustment.
Adjustable throttle sensitivity via rotary dial.
Steering dual rates adjustable to limit steering travel.
All dials and switches protected by a weatherproof hatch.
Low battery warning.
Servo reverse settings for both channels.
Superior digital interference rejection.
Long battery run time.
Low profile transmission antenna.
Ergonomic and lightweight design.

2.4 GHz Receiver
The supplied 3 channel 2.4 GHz receiver is compact and lightweight and comes matched to the transmitter out of the box. This receiver also offers superior interference rejection and has a fail-safe function that can be set by the user if signal is lost or transmitter voltage falls to low.
Quick Overview
HSP 2.4 GHz Radio System.

4WD drive system.
Front/rear differentials with quality bevel gears.
High Performance VX18 .18cc Nitro Engine
13.8g lightweight aluminium flywheel allows for quick engine response.
2 Speed Gear Box.
Extra large 75cc leak proof fuel tank.
Solid universal joint cups
6kg Hi Torque Steering Servo.
6kg Hi Torque Throttle/Brake Servo.
Disc brake system
Oil filled aluminum capped shocks (color coded blue).
Oil serviceable gears built-in high quality bulkhead.
Precision front steering system featuring quick turning response.
Off road knobby tires with spoke wheel rims.
Stylish off road wing (color coded blue).


Specifications
Length: 400mm.
Wheel Base: 275mm.
Ground Clearance: 26mm.
Height: 160mm.
Gear Ratio: High 1:5.84 - Low: 1:8.58.
Wheel Diameter: 86mm.
Wheel Width: 32mm Front - 40mm Rear.
Chassis: T6 Anodised Alumnium 
Almost Ready To Run
This HSP standard size 1/10 buggy comes as a complete package, including a 2.4GHz radio system, 4 wheel drive system, high performance Nitro Engine, aluminium chassis, steel drive shafts, oil-filled shock absorbers with progressive springs. 
What is required

8 x AA batteries for the transmitter
4 x AA batteries for the receiver
Nitro Starter Kit (Available at Techno Hobbies) 
Good commercial blend of Nitro Fuel with a 20% Nitro content suitable for model vehicles (Recommend first few tanks run on 16% Nitro fuel to run in the motor) can be purchased from Techno Hobbies (Cannot be shipped).
Note: Colours and Specifications are subject to change and may differ from the images or description above.


So Don't delay further to enjoy a thrilling and exhilarating Performance with these Nitro fuel powered RC buggies!
Rev up the throttle and hear the powerful VX18 .18cc Nitro Engine scream its way across your favorite road or park with a puff of smoke!  HSP Nitro VX18 engine is mated to a 13.8g lightweight aluminium flywheel allows for quick engine response. The engine is also equipped high and low mixture settings, making tuning very straight forward and simple to suit the type of conditions you want to operate in (See videos). This engine is fitted with a pull start system to make starting very easy. The VX18 is also fitted with a heavy duty air-filter and quality HSP glow plug. The manifold is coupled to a composite material exhaust pipe that is light weight and provides the perfect amount of pressurization to the fuel tank to provide a trouble free supply of Nitro Fuel to the adjustable carburetor.